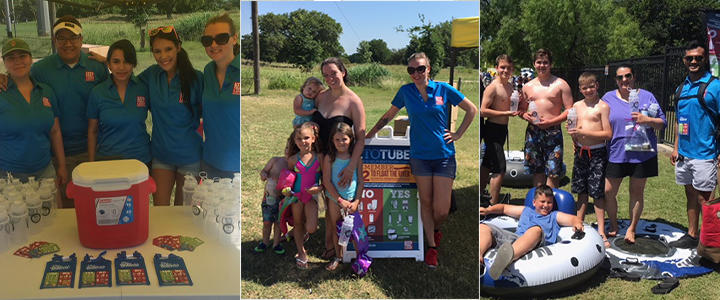 Over the 2018 Memorial Day weekend, the first in many years to not receive a significant amount of rain, visitors took to the rivers to cool off from the 100-degree heat. Three Street Teams of five volunteers were stationed at various points-of-entry to the Comal and Guadalupe rivers within the city limits, including Elizabeth Street, Prince Solms Park and River Acres Park. These volunteers greeted and informed guests of the anti-litter city ordinance. Working alongside New Braunfels Park Rangers and Police, the Street Teams were well-received, and visitors showed they were happy to do their part in keeping the rivers clean.
Street Teams distributed non-disposable containers provided by the Chamber's Convention and Visitors Bureau to river-goers. Guests expressed their thanks for the containers, saying it made them feel like the community cared about them AND the rivers. Street Teams will be in place each weekend through July 29, providing visitors one more friendly face to assure their positive visitor experience in New Braunfels is one to remember.
As a reminder for those planning a river visit, it is required to drink all beverages from a non-disposable container when inside the city limits. For more information regarding rules on the river, visit www.TubeInNewBraunfels.com.