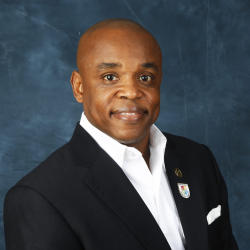 Colonel (Retired) Steve Cornelius was born in Canada, grew up in Guyana, South America, and came to the United States in 1979, where he became an American Citizen. He is a graduate of Murray State University and holds a master's in strategic studies from the Executive Military Leadership School, Carlisle, PA; he is a graduate of the Senior Managerial Leadership School and Senior Leaders Program from Leavenworth, KS.
Retired Colonel Cornelius proudly served his country for over twenty-five years on active duty. He held critical leadership and staff assignments in diverse organizations from tactical to strategic levels in the United States, Middle East (Kuwait/Iraq), East Asia (South Korea/Japan), and South Asia (Afghanistan).
Retired Cornelius is a passionate and result-oriented executive with a record of successfully executing and aligning critical initiatives to organizational strategy. He has a proven ability to identify complex issues, develop sound processes, devise scalable plans, integrate partners to build strong teams, and lead through influence and collaboration.
After retiring from the military, Retired Colonel Cornelius chose to continue serving others in the private sector. He currently serves on the Board of Directors for United Way of Comal County in Texas. Cornelius is an 11th-hour and veteran honor guard volunteer at Hope Hospice, the oldest non-profit hospice and grief-counseling agency. He serves as a mentor with the Veteran Treatment Court (VTC), he is a Paul Harris Fellow of the Rotary Club of New Braunfels, a service organization, and is a member of the Greater New Braunfels Chamber of Commerce.
Colonel (Retired) Cornelius and his wife Linda are proud to call New Braunfels, Texas, their home.