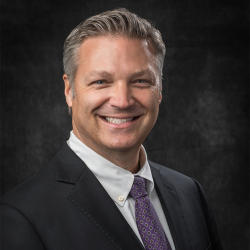 Stephen Hanz is a sixth generation New Braunfels resident and a true New Braunfels native, descending from one of the original settlers of New Braunfels with Prince Solms. Stephen and his wife Donna have three children Zachary, and twin daughters, Kate & Mia.
Stephen is a Partner and local business owner of HMT Engineering and Surveying, providing Civil Engineering services to New Braunfels and surrounding communities. As an Engineer Stephen has a unique opportunity to provide a critical role in planning and developing infrastructure of a growing community. Stephen lends his expertise to several city committees including City of New Braunfels Drainage Impact Fee Committee - Past Chairman, City of New Braunfels Watershed Advisory Committee – Chairman, and City of New Braunfels Bond Advisory Committee.
Stephen holds a bachelor's degree in Civil Engineering from Texas A&M University and is a graduate of the UTSA Executive MBA Program. He is a member of The American Society of Civil Engineering, The American Water Works Association and is a Registered Licensed Engineer in the State of Texas.
Stephen volunteers a great deal of his time providing leadership roles in community organizations. He has graduated from the Leadership New Braunfels Class of 1999, served as the President of the Wurstfest Association, Director of the Comal County Fair Association, and past President of the New Braunfels Jaycees. He is a Lifetime Member Blue Coat for the New Braunfels Chamber of Commerce. He holds multiple Board of Directors positions; including New Braunfels Chamber of Commerce, Sophienburg Museum and Archives, Downtown Rotary Club of New Braunfels, Comal County Fair Association, and the Brauntex Theatre.
Stephen has a passion for music and plays several instruments, including the drums and the banjo. 
Fun Facts:
Favorite restaurant in town? With as many noteworthy restaurants as there are in New Braunfels, this is a tough question. Krause's Cafe is one of my go-to places because they manage to do multiple things very well: craft beer, German food, and the Biergarten experience. It's a great place for a casual meeting or a beer after work. If I had to choose a favorite place to eat though, it would have to be Monterrey Café. I love Mexican food and I think they do it the best. 
If you could time travel, what time period would you visit? I love 70's Rock & Roll, but I'd like to visit the future to see what cool, new ideas and inventions people have come up with. I would also be really interested to see how New Braunfels will have grown and evolved over the upcoming years.
Favorite all time musician or band? My favorite band has to be the Allman Brothers. I think they combined all the best elements of blues, country, and jazz and created an immersive musical experience that revolutionized 70's Rock & Roll. This band largely shaped and influenced my passion for music, and is what inspired me to learn how to play.​