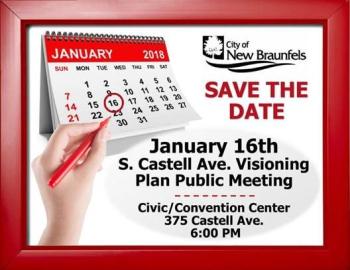 Visioning Plan. This is the sixth in a series of public meetings planned to include the community in the visioning process that is in progress for the South Castell Avenue area in downtown New Braunfels. The meeting will be held in the ballroom of the New Braunfels Civic/Convention Center, located at 375 South Castell Avenue.
"At this stage in the process, we will be providing attendees not only with an update on the evolving plan, but also with a report on the results from the survey implemented at the November 15, 2017 meeting," said City Manager Robert Camareno. "This is a multi-year project and we encourage the public to stay engaged and informed."
At this meeting, Douglas Architects will discuss the work that has been done thus far and discuss how they have applied the feedback received to-date through this public process. Attendees will participate in round-table work groups to collect their input on specific areas of the plan and then report out to the entire gathering. Creating a vision for the site will communicate to the development community what resident expectations are for the area. A citizen-led process, unlike traditional development approaches, is a way for the City to share with the future developer what is important to the community.