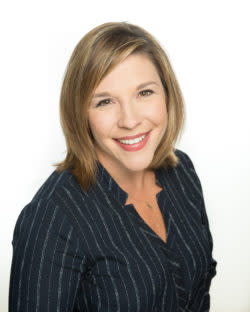 Soriya Estes, AuD has been a practicing Audiologist in New Braunfels since 1999.  She grew up living in a small rural wheat field town in Oklahoma where she first learned how important community involvement is for a city.  She attended Oklahoma State University for her undergraduate studies then came to Texas as soon as she could, to attend The University of Texas-Austin for her post-graduate work.  She enjoys wearing different hues of orange, depending on which alma mater she wants to support during football and basketball seasons.
In 2005, Soriya started her first practice in New Braunfels with the philosophy of providing superior hearing healthcare services for all patients. The philosophy of service she hopes resonates throughout her character to her twenty employees and patients within the community.
She also now lectures as a guest faculty member at the University of Texas-Austin and has served on several committees for the American Academy of Audiology. She has spoken at national and global forums relaying Best Practices for Audiologists in hearing healthcare clinics.
Outside of Audiology, Soriya is a Blue Coat for the New Braunfels Chamber of Commerce and was awarded the Small Business Person of the Year in 2015.  She also serves on the Board of Trustees for 89.5 KMFA – classical public radio and the St. Austin's Catholic School Board. She has traveled the world for adventures, including zip-lining in Costa Rica, attending the 2006 Tour de France and most recently spent a week in Port au Prince, Haiti working on hearing collaboration initiatives for Haitian children.  Her two daughters, Jenna (13) and Callie (9) are her greatest accomplishments.
Education:
Salus University, Doctorate of Audiology, June 2009
University of Texas, Master of Arts, Audiology, 1999
Oklahoma State University, Bachelor of Science, Speech Pathology & Audiology, 1997
Fun Facts: 
What is your favorite flavor of ice cream? Dairy Queen Vanilla cone
If you could time travel, what time period would you visit first? The Baroque period just to sit and people watch
Who is your all-time favorite musician or band? Oh there is no way to force me into one favorite genre let alone all-time favorite musician or band! I guess I'll narrow it down a little (but this list is not inclusive):

Composer: Antonio Vivaldi;
Singer/Songwriter: Ray Wylie Hubbard;
Female Artist: Pink;
Male Artist: Harry Connick, Jr.;
Best Decade of Music: 80s of course!