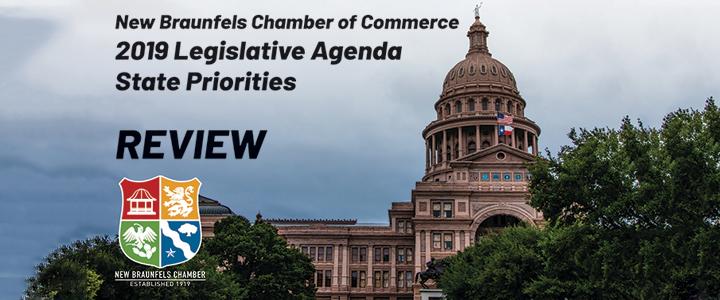 Prior to the Texas 86th Legislative Session, the Chamber published and distributed its own legislative priorities that reflected the pressing needs of the community and the businesses. Throughout the session Chamber staff and volunteers tracked bills that could affect our community and worked with legislators on important issues. While we didn't see the outcome we wanted on every issue, overall the session was a success for the Chamber and New Braunfels with the passage of some impactful legislation.
The bill that was most near and dear to New Braunfels was New Braunfels Utilities' Aquifer Storage Recovery (ASR) project carried by State Rep. John Kuempel and Senator Donna Campbell. The passage of this bill was vital to the future of water in our fast growing community and paves the way for the smart and respectful use of available resources.
Another win for the Chamber came in the continued support for economic development tools such as the extension of the expiration date on the Property Redevelopment and Tax Abatement Act, aka Chapter 312, and continued funding for the Texas Enterprise Fund. The Biennial Budget also provided increased funding for Communities in Schools and TxDOT which supported two of the Chamber's priorities. More funds were added to the state's tourism promotion funds as well.
While there were many positive outcomes, there were a few issues that were left on the table this session. Always important to the New Braunfels community are tourism priorities, such as regulation of short-term rentals and a uniform school start date, which were not addressed. There was also not a lot of movement on some career and technology education bills that would have done a variety of things including support internship and apprentice programs, and expand career and technology education courses.
Like many communities, the Chamber opposed a stricter revenue cap which would limit the City and County's ability to meet the needs of our growing population. Senate Bill 2 did impose a 3.5% rollback rate which may adversely impact the City's ability to provide all the services that the citizens expect, but only time will tell how this bill fully affects our community. While not on the official Top 10 priorities, the Chamber was pleased to see the passage of the State Flood Infrastructure Fund, School Finance Reform, and Craft Breweries Beer to Go (this is New Braunfels after all).
Overall the Chamber is pleased with the work completed in the 86th Legislative Session and commends our elected officials on their hard work. Not all of our priorities were addressed or saw the conclusions we would have liked but some big ticket items did have major success. There is always more work to do and as the New Braunfels Chamber has for 100 years, we will work hard year-round and continue to advocate on behalf of the community, our members, and the residents of the best city in the state.