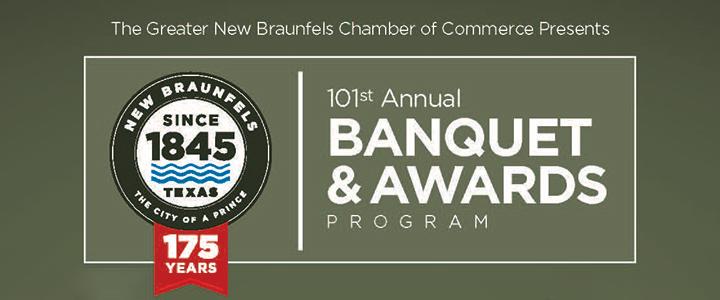 The Chamber's 101st Annual Banquet and Awards Ceremony is set for Friday, January 31, 2020 in the New Braunfels Civic Convention Center from 6:00 to 9:00 p.m. The Chamber is celebrating 175 years of New Braunfels with "Since 1845" as the theme. Join your fellow Chamber members and business and civic leaders for a special evening celebrating the New Braunfels business community. 
The evening will include a social hour, served dinner, a brief awards ceremony including the announcement of the Besserung Award winner, and the ceremonial passing of the gavel from Outgoing Chair of the Board Shane Wolf to 2020 Chair of the Board Wes Studdard.
Banquet and table sponsorships are available now, with each member receiving a printed invitation in the mail soon. The banquet is a sell-out each year. Contact Phyllis Foerster at Phyllis@InNewBraunfels.com or at (830) 608-2804 for more information or to reserve your table.