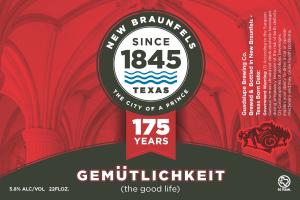 The 175th Anniversary of New Braunfels is fast approaching. The year 2020 will be filled with the spirit of our founding fathers and feature many opportunities for celebrations and reflection. 175th Commission Chair, Anne Miller, has been working through her committees of volunteers and crafted an Anniversary to be proud of for many years.
Much progress has been made and the new Highway Gateway Monuments have been given the green light from the Federal Authorities and the Texas Department of Transportation. Stuart Hansmann and Stephen Hanz deserve high recognition for their great work on this committee. Construction should start very soon and the final product will be unveiled during Founder's week in March 2020.
History Flows Here, the 175th coffee table book, is at the book binders at the time of this article and book sales are underway. This lovely book features over 365 unique, different, sometimes unknown locations, places, and treasures of New Braunfels. This is a limited edition publication and only 1000 will be printed. You can pre-order the coffee table book here.
The 2019 Weihnachtsmarkt will be the kick off for all 175th Merchandise and a bevy of uniquely branded celebration souveniers will be available during the Christmas Market. There will also be three retail locations that will carry the merchandise after the market including The Local, Sophie's Shop, and Henne Hardware.
The 175th Poster will be unveiled at Weihnachtsmarkt and the artist, Christopher Cross, will be there to sign the first numbered 175 posters. Chris is the official artist of the National Park System and a New Braunfels Native.
The calendar of events is filling up and all of the action can be captured at www.Since1845.com. Mark your calendars for a busy March!