Shane Wolf, his wife and three children have been residents of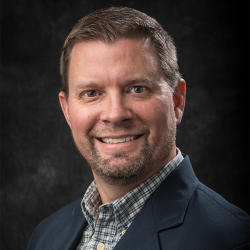 New Braunfels since 2006 after moving from Allen, Texas where they married and resided from 1998 to 2006.  
Wolf is currently General Manager for Rockin 'R' River Rides with responsibilities including: administrative staff, group sales, marketing and communications, operations, public relations, information technology, reservation systems, security, and strategic planning and telecommunications.
Wolf holds a BBA in Management with a minor in Marketing from Texas State University. He is a Past Chair of the Chamber's Board of Directors and on several committees within the Chamber.
Wolf also serves as President for the Water Oriented Recreational District, past President of the Hospitality and Visitors Association of Comal County, Gruene Merchants Association, South Texas Water Safety Coalition, Water Strategies Management Committee, The City of New Braunfels River Activities Committee, The City's Comprehensive Plan Advisory Committee, The City's Watershed Protection Program and has served with the Texas Country Estates Homeowner's Association and Boy Scout Pack 757.

Fun Facts:

What was your favorite toy growing up? Hmm, probably my "Big Wheel", that low profile tricycle with plastic tires

What is your favorite ice cream? Blue Bell but I have never turned down ice cream from anyone

If you could go on a free vacation, where would you go? The beaches of Bora Bora look nice