Shana Slatter is the Executive Assistant to the President of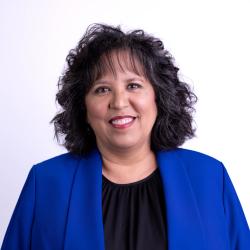 the Greater New Braunfels Chamber of Commerce, Inc.
Slatter was first employed with the Chamber in 2000 and has worked in various capacities throughout her years with the Chamber. Currently her major projects are the Texas Legislative Conference and the Back-to-School Luncheon. She handles communications for the Natural Resources, Transportation, and Business-Education Partnership Committees. She also assists the President with the Chamber Board of Directors, Greater New Braunfels Economic Development Foundation, and New Braunfels Economic Development Corporation.
Slatter is married to her high school sweetheart. Her husband Donnie teaches and coaches at Navarro High School. They are grateful to call the best city in Texas, New Braunfels, "home" with their son Derek and twin daughters Reagan and Riley. The family proudly attends Sts. Peter & Paul Catholic Church.
Fun Facts:
Favorite flavor of ice cream? Rocky Road from Baskin-Robbins
If you could time travel, what time period would you visit first? 27 AD to see Jesus and listen to his teachings
Favorite all time musician or band? George Strait, who I personally met when he received the 2018 Texan of the Year Award at the Texas Legislative Conference