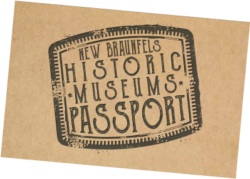 Recently, in partnership with the Historic Museums Association, the Chamber's Convention and Visitors Bureau launched a new product: the Historic Museums Passport. According to the CVB's Matchpoint Study, the "Uptown Urbanites" persona is generally interested in arts, cultural, and history when traveling, making this passport an ideal product for one of our top segments of visitors, as well as locals.
New Braunfels is home to four unique museums. Visitors can walk through historic vintage train cars and original turn-of-the-century homes and businesses, view timeless collections of German, handcrafted furniture circa 1845, and take the journey New Braunfels' founder and German colonists made as they crossed the ocean to their new home in central Texas. The four museums included in the passport are the Sophienburg Museum & Archives, New Braunfels Conservation Society, Museum of Texas Handmade Furniture, and the New Braunfels Railroad Museum.
Purchase a New Braunfels Historic Museum Passport for $19.95 and take a journey back in time to learn the infamous roots of German Texan culture that continue today. Your passport provides entry into each museum. Collect stamps at each location, and your passport will give access to special events, unique viewings, and tours. Your purchase of the New Braunfels Historic Museum Passport supports the preservation, conservation, and history of New Braunfels and German Texas culture.
Passports can be purchased at www.HistoryInNewBraunfels.com.