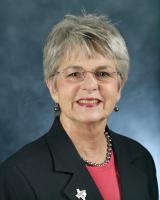 By Sandy Kibby, Chair of the Board
August – Another Busy Month to Wind Down the Summer
We began the last month of the summer with a joyous evening of laughter and camaraderie with our Blue Coat friends as we cut a ribbon at Tripp's Ultimate Comedy Club and Humor Bar. It's located in the basement of old town hall, which last housed Liberty Bistro. Tripp, a comedian himself, has been able to draw some top-notch talent from all over, and the reviews have been fantastic. This is definitely an adult venue with fully stocked bar (and food soon) to consume while you laugh. Have fun locally!
Laurri Garcia has opened a lovely business right next door to Naegelin's Bakery on Seguin Street. P-Quatro Designs (get it? four P's) which stands for Parties, Planning, Promotions, and Photography. She specializes in planning and orchestrating special events and weddings with all of the fine touches. Drop in for a look-see at all the possible wedding ideas, including gifts, and even the jewelry to accentuate your outfit. Shop local!
Family Promise of Greater New Braunfels was our next ribbon-cutting, and talk about an amazing accomplishment! Doy Cole, who has orchestrated this whole concept to address some of the needs of our 800-plus homeless families in New Braunfels, is a man who appealed to the local churches and businesses and is all set up with a board and a Network Director Stacey Minor to run the place. They have a delivery truck that takes the homeless family and their roll-away beds and necessities to a local church that puts them up overnight for a week. The families can return to the center during the day to relax, take showers, and tend to personal needs. The cooperation that Coy has managed with all of the churches is something beyond belief, and if the churches do not have an overnight facility for the homeless family, Doy has arranged for other businesses to help out. And this is why I chose Doy to be honored with a Chair of the Board Award earlier in the year. He has truly made a difference this year in our city by investing his time and talent locally.
We cut another ribbon at Legacy Heating and Air Conditioning, located on the IH-35 frontage road right across the street from Panda Express in a small building that once housed Advanced Flooring before they moved a little further down IH-35. Another example of a man following in his father's footsteps, Chad Briggs has been in the business for about 30 years. He partnered with Alex Guebara to establish this business that has stayed quite busy in this blistering hot summer. And, they have an innovative business plan: to cater to property rental companies. If Legacy, who is open 24/7, can count on the property rental proprietors, they will have steady clients. But guess why it is called Legacy: because they want to leave a legacy behind them by providing a service to the community, and especially to the San Antonio Food Bank. Their goal is to collect 1,000 pounds of non-perishable food items; so, if you donate an item when they come to repair your A/C, you get a dollar off your bill. Invest local!
We are adding more beds to New Braunfels for tourism with Candlewood Suites opening up on IH-35. And more cupcakes are available for your parties and pleasure at Nana's Cupcakes, which is sharing a building with Kubo Ko Asian Restaurant on Union Street across from Ducky's. Try the s'mores cupcake or just plain old vanilla with Unicorn blue and white frosting. Yum! You will be in love with Nana's cupcakes too. And the Fork & Spoon is going more German with Theis Bakery in the Marketplace Mall. Shop local!
Wells Fargo Bank on Walnut was the host for our August Mixer and kept us cool, well-fed, and hydrated. One of our new members, Belk Department Store, which is still under construction in Town Center at Creekside, really stepped up by being a co-sponsor of the event – before their own ribbon-cutting, which is above and beyond expectations! Belk is a privately owned chain with over 300 shops in sixteen states, with the two newest being ours in New Braunfels and the other at the Galleria in Dallas. Our store will have 95,000 square feet of floor space with 8,400 being stocked with shoes! Yea! I see shopping bags in my future! The Regional Manager Jim Rose said at the mixer that one of Belk's pledges is to be actively involved in the community where its stores are. They have been holding job fairs at the Civic Center to hire over 100 associates for this new store. We look forward to that ribbon-cutting in mid-October. Belk is hiring local!
Coming in September is our spectacular Business Trade Show at the Civic and Convention Center, and this one will honor all businesses which have been in operation for 25 years or more; so, it is the Silver Anniversary Party Sneak Preview on September 10 and the day show is all day on September 11. Remember that there are no Sneak Preview tickets sold at the door, only ahead of time; so, get yours early before they run out. Put on your black tie and swanky cocktail gear and join us for another fabulous trade show kick-off, and celebrate sustainable local businesses!
The Chamber's many committees are working throughout the year, and we encourage new members to take advantage of one of the committees that strikes your fancy and meets your needs for networking and giving back to the community. For example, the Business Advisory Committee has been presenting seminars all year, and will continue with one on September 5th from 9:00 until noon, at Honors Hall, next to the Convention Center. It is titled "Business Start-Up Essentials AND Operating an Existing Business Successfully". That is a mouthful, and will surely be great with the UTSA Small Business Development Center Manager Sharon Miller as the speaker. If you have not had the pleasure of working with Sharon, you will be amazed at the depth of her skills and knowledge. She knows all about investing in your local community.
So, as you can see, we at the Chamber continue to do our thing – promoting businesses and economic development. Our staff is constantly promoting our fair city all over the place, including Canada. Recently, Chamber President and CEO Michael Meek was one of seven Texans chosen by the Secretary of State's Office to go to Toronto and Montreal to promote our state, especially New Braunfels, to Canadians. Our growth is phenomenal; so, I would not be surprised if we have a Canadian company touching down here in our fantastic area in the near future, all ready to shop, hire, and invest local!