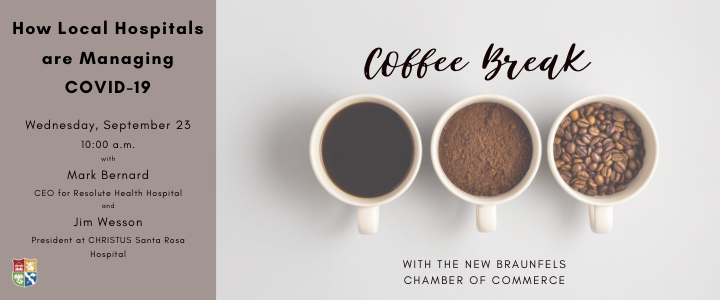 On Wednesday, September 23, the live streamed Coffee Break with the Chamber will review the local hospital and healthcare environment, providing the most recent updates on how they are managing throughout the ongoing pandemic. Wes Studdard of Bluebonnet Motors, Inc. and 2020 Chair of the Board will present the guest speakers for this virtual event will be the CEO for Resolute Health Hospital Mark Bernard and Jim Wesson, President at CHRISTUS Santa Rosa Hospital. The two will provide updates and overviews on what their hospitals have undertaken in the past six months, as well as their plans for the future.
The webinar will provide members with valuable tools and information on how the leaders in the local New Braunfels community are continuously pressing through and keeping our citizens safe.
All Chamber members will be emailed meeting details for this event.
For more information contact Phyllis@InNewBraunfels.com.