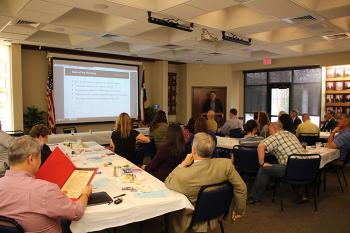 At today's Board of Directors meeting, the Convention and Tourist Fund Audit was presented, an update on the upcoming Texas Legislative Conference was given, Bennie Bock was presented with a Senate Proclamation, April Weilbacher received the first Chair of the Board Award of the year, and an update was provided on the S. Castell Visioning Project.
The Convention and Tourist Fund Audit was presented as a clean audit with no concerns or questions and the auditor complimented the Chamber on its financial processes and procedures. Rob Johnson, TLC Arrangement Committee Chair, gave an update on the 52nd Annual Texas Legislative Conference being held in the New Braunfels Civic Convention Center March 22 and 23. Johnson reviewed the Friday conference schedule including three panels and the acceptance of the 2018 Texan of the Year Award by George Strait.
State Senator Donna Campbell read Senate Proclamation 75 recognizing Bennie Bock for a long and distinguished career as a businessman, rancher, attorney, and public servant. Bock served for 10 years as a member of the Texas House of Representatives, was an assistant attorney general for the state, and was a member of the Texas Motor Vehicle Commission. April Weilbacher, Co-Owner of 2tarts Bakery and Scoop Street, was also honored at the meeting by receiving the Chair of the Board Award in the field of downtown development.
Andrew Douglas, of Douglas Architects, provided an update on the S. Castell Visioning Plan to include information gathered at the sixth public meeting held in January. He reported that there is wide city and community support for the project, a growing consensus on specific details, a growing awareness of the unique opportunity, and an appreciation for the positive financial impact to the community. He complemented the City's work in laying the groundwork for this project dating back to the 2011 Economic Development Strategic Plan.
The development will be a continuation of the positive assets that downtown New Braunfels already has and will blend in with the fabric of downtown. The plan allows the City to establish a framework for a market based plan the will be very attractive to developers who generally prefer to know what the community wants prior to taking on a project. Douglas noted that the engagement of the community in this project is very indicative of the culture of community and our desire to protect and enhance the community.