At today's Chamber Board of Directors meeting,
the Superintendents from both local school districts provided presentations with information on current programs and future plans. Also at the meeting, Sherry Harrison was honored with a Chair of the Board Award and Glenn Griffin received his Life Membership.
Comal ISD Superintendent Andrew Kim spoke first and started by noting that 100% of the district campuses received a passing grade for state ratings and the district had an overall score of 92. CISD currently has 24,941 students which is surpassing their projections for the year. At 589 square miles and serving five counties, CISD has 28,700 available home lots that are ready to be built on and 11 master planned communities in the district. This adds stress to their system but as Kim said, "we very much appreciate that parents are choosing us for their children's' education."
The district is projecting growth of 5,600 students in the next five year. Currently CISD is using 35 portable buildings. Two new middle schools were opened in 2018 and two new high schools will open soon, one in 2020 and one in 2021. The district has a total staff of 3,300 and hired 419 new staff members this year.
One big change for both schools is the new school finance law that completely changes how schools are funded. CISD is now lowering their M&O tax rate from $1.04 to $0.97. Kim ended his presentation by noting that 5,768 students participate in fine arts programs and 4,973 students participate in athletic programs.
New Braunfels ISD Superintendent Randy Moczygemba started his presentation by showing current enrollment numbers of 9,537 which will set a record for the largest enrollment for the district. When analyzing their growth patterns, NBISD has found that the area of their district on the east side of IH35 is growing five times faster than the area to the west of the highway. The east side grew at 7.36% while the west side grew at 1.45% with total enrollment growth for the district at 4.65%. The School of Choice has seen a significant increase in enrollment with a growth of 39.53%.
A new middle school is being built that will relocate current New Braunfels Middle School students. This will then allow the 9th Grade Center to move to New Braunfels Middle School which will be transitioned to a full high school by no later than 2025-2026. Once the current 9th Grade Center has moved, that building will be replaced with a new elementary school that will open in 2023 to replace Seele and Carl Schurz elementaries. Although the Veramendi Elementary just opened last year, it is already at capacity. Eight additional classrooms are being added. 
A point of pride for NBISD is the creation of their NBISD Ambassador program. The program gives NBISD resident an opportunity to gain a deeper understanding of the day-today operations of the school districts. The program meets in the evenings from 6:00 p.m. to 8:30 p.m. for eight meetings. Applications are due September 23.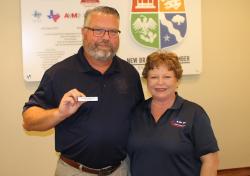 Glenn Griffin, Life Membership