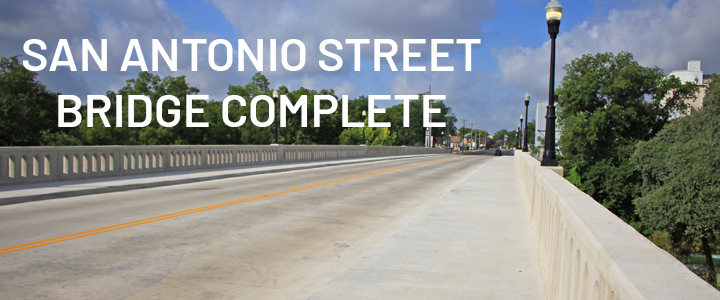 The San Antonio Street Bridge, also known as the Comal River Bridge, has finally received its long overdue construction to improve the look and safety of the 97-year-old structure. The original bridge was constructed in 1923, designed by Terrell Bartlett Engineers, Inc. out of San Antonio and built by Miller-Fifield Construction Company out of Waterloo, Iowa. This concrete, open spandrel, arched, 410-foot-long bridge replaced the previous steel bridge that had been built in 1894.
The newest remodel of the San Antonio Street Bridge shows off a wider sidewalk for increased safety for pedestrians, stronger side rails that will withstand more force, widened vehicle lanes and a stronger support system that allows for heavier loads to cross, such as firetrucks and EMS vehicles.
The estimated cost of San Antonio Street Bridge rehab project was roughly $4.5 million.