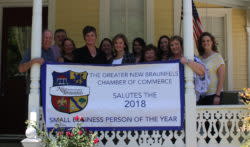 The Greater New Braunfels Chamber of Commerce is proud to announce that Natalie Rougeux, Managing Member & CEO of Rougeux & Associates PLLC, has been selected as the 2018 Small Business Person of the Year. The announcement was made Tuesday, April 17 when members of the Chamber's Executive and Small Business Week committees made a surprise visit to Rougeux's office with the announcement.
Rougeux opened her business in 2011 and decided to specialize and only practice employment law. It was a risky endeavor but she was very passionate about sticking with what she knows and does best so that she could provide the highest quality of legal services possible to Texas employers. Rougeux & Associates PLLC has gone from a handful of clients to more than 300 employer clients located all around the state.
"We are extremely unique as a law firm and, I think, innovative in our approach to client service, the mentoring of young female attorneys, and the importance of giving back to our community," said Rougeux. "Our employees are here because New Braunfels is not only a great place to work, but in which to play and raise children. I left 'Big Law' so that I could spend more time with my children and family. I want that same benefit to be enjoyed by my employees."
In addition to operating a successful legal practice, Rouguex has made it a priority to be involved in the community. She has been a member of the New Braunfels Chamber of Commerce since 2006, serving as Chair of the Board in 2016, and is an active Chamber Blue Coat Ambassador. She also served on the board for the Comal County Habitat for Humanity, as Co-Chair of the Headwaters Capital Campaign, on the Christus Santa Rosa Advisory Board, and is a Trustee with the Braunfels Foundation Trust.
Since 1990, the Small Business Person of the Year award has recognized the outstanding contributions of small business people to the economy and overall progress of the New Braunfels trade area. To be eligible for nomination, the business person must be a member of the Greater New Braunfels Chamber of Commerce, own their business, exhibit community involvement, and employ less than 50 employees, all for the last five years.
Small Business Week will be celebrated locally and nationally April 29 through May 5. During the week posters will be displayed in local businesses, and the public will be encouraged to shop local and use #SBWNB on social media to show their support. The community will be asked to wear yellow on Friday, May 4 in recognition of all business owners. Rougeux will be recognized as the 2018 Small Business Person of the Year through proclamations made by the New Braunfels City Council and the Comal County Commissioners Court. She will also be honored at a reception sponsored by Randolph Brooks Federal Credit Union and at the Small Business Week Forum and Awards Presentation on Friday, May 4 from 8:30 a.m. to 1:30 p.m. at the New Braunfels Civic Convention Center.