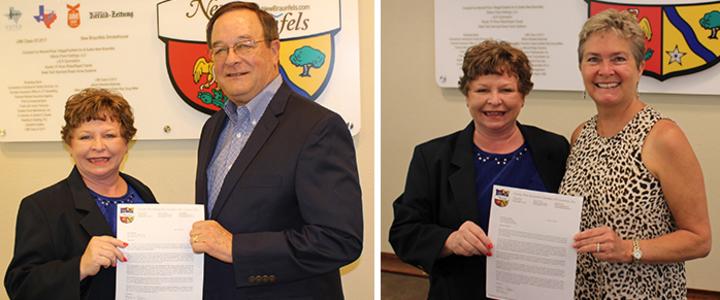 At today's Chamber Board of Directors meeting, two Chair of the Board Awards were announced. Ron Reaves was honored in the field of community planning for his efforts leading the current City of New Braunfels Comprehensive Plan update. Dr. Melissa Miskell received the award in the field of women's health for her efforts across the world dedicated to the prevention of cervical cancer. This award is designed to honor individuals who have made a significant contribution to the community in a specific field of endeavor, and no more than six recipients may be named in a calendar year.
Reaves recently completed two 3-year terms with the City Council. While on council, Reaves envisioned using the former Albertson's Grocery building as a city hall, led efforts for the acquisition and development of Mission Hill Park, served on the Alamo Metropolitan Planning Organization as the city representative, chaired the Mayor's Higher Education Task Force that led to the expansion of the Central Texas Technology Center, and much more. These efforts resulted in Reaves receiving the Chamber's coveted Besserung Award in 2016. He was also inducted into the Chamber's Hall of Honor in 2010. Click here to read more about Reaves >
Since 2016, Dr. Miskell has been the Executive Director of PINCC, preventing cervical cancer globally, and worked closely with PINCC Founder Dr. Taylor during her missions for seven years. She assumed that role upon Dr. Taylor's retirement, and led teams of 5 to 15 volunteers to hospitals and clinics in Africa, Latin America, and Asia. PINCC has trained approximately 700 personnel in cervical cancer screening and treatment, certified more than 40 clinics, seen more than 10,000 patients, and saved countless lives in the process. Through her leadership, she has accumulated more than 250 willing volunteers still waiting for a chance to witness PINCC for themselves. Cervical cancer is the number one cause of cancer-related deaths in developing countries, and Dr. Miskell's efforts have increased awareness of the detriment. Click here to read more about Dr. Miskell >
For these reasons and many more, Reaves and Dr. Miskell are the third and fourth recipients of the Chair of the Board Award of 2018. April Weilbacher was honored in the field of downtown development in February, and Donna Eccleston received the award in the field of mental health in April. Reaves and his wife Jeannette, and Dr. Miskell and her husband Terrence will be invited as special guests to the Centennial Chamber of Commerce Banquet on January 25, 2019 where they will be further honored.