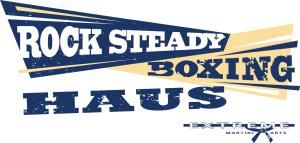 CONTACT:
Erik Scott 
Rock Steady Boxing Haus
Haus@rsbaffiliate.com
512-553-6062
New Braunfels, Texas (4/8/2019) – This April, Rock Steady Boxing Haus, located at Extreme Martial Arts, 1965 Post Rd Suite #507, will join millions in observing Parkinson's Awareness Month. Addressing this progressive disorder of the nervous system that disrupts the ability to walk, talk, balance and move, Rock Steady Boxing Haus gives those living with Parkinson's a way to fight back by offering a non-contact, boxing-inspired fitness routine proven to dramatically improve their quality of life.
To promote awareness and education about Parkinson's, Rock Steady Boxing Haus will offer a free class this April to anyone living with the disorder. We invite prospective boxers and their "corners" to participate, and experience the positive effects of exercise as a working team.
According to the Parkinson's Disease Foundation, more than 10 million people worldwide are living with Parkinson's disease and more than 60,000 Americans are diagnosed each year. Recent medical studies, including one at the Cleveland Clinic, focus on intense "forced" exercise and indicate that certain types of exercise can exert a neuroprotective influence and may actually slow the progression of the chronic, incurable disease. Rock Steady serves participants at all stages of Parkinson's – from the newly diagnosed to those who have been living with the disease for decades plus.
"Parkinson's Awareness Month is an opportunity for us to raise awareness about the disease our fighters live with and to reflect on their courageous battle," said Erik Scott, Head Coach of Rock Steady Boxing Haus. "Rock Steady Boxing is more than just one class or one program. It's a commitment. Our mission is to inspire and provide hope and better quality of life for those determined to fight back against Parkinson's disease."
Rock Steady Boxing affiliates are independently owned and operated. To learn more about Rock Steady Boxing Haus, please contact Erik Scott by email or phone as follows: Haus@rsbaffiliate.com, (512)-553-6062. More information can be found at our affiliate site, haus.rsbaffiliate.com. For additional resources and to learn more about the overall organization, please visit Rock Steady Boxing, Inc. at www.rocksteadyboxing.org/.
About Rock Steady Boxing Haus
Since December 2013, our mission here at Fit Feat Inc. and Extreme Martial Arts, is to provide fun, challenging athletic events that engage our community and promote well-being. This is directly in line with Rock Steady Boxing's mission statement: Rock Steady Boxing, a 501(c)3 nonprofit organization, gives people with Parkinson's disease hope by improving their quality of life through a non-contact boxing based fitness curriculum.
About Rock Steady Boxing, Inc.
Rock Steady Boxing, Inc., a non-profit organization, was founded in Indianapolis in 2006 with six participants. The organization currently has over 25,000 members and over 545 affiliate locations worldwide and continues to grow by appealing to men and women ranging in age from 35 to 90. Classes are geared to people at all stages of Parkinson's disease. For additional information, please visit www.rocksteadyboxing.org. Follow Rock Steady Boxing @RockStdyBoxing and "Like" us on Facebook at Facebook.com/rocksteadyboxing.