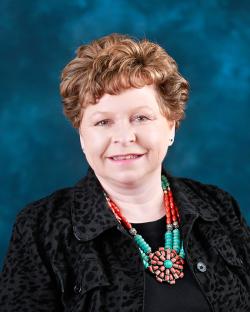 Born and raised in New Braunfels, Robin's fondest childhood memories include regular festive events with friends and extended family, and a passion for Ballet and Tap dancing.  After graduating from Canyon High School in 1984 her dream of a dance degree was cut short the first year as a pre-existing foot injury prevented her from continuing to dance at the level necessary to excel in the art.  Returning home to regroup she began attending Southwest Texas University in 1986 and went to work for a new gymnastics club in town Pritchett Gymnastics Center that same year.
Marrying her high school sweetheart, James, in November 1988 she moved to Austin where James was working for the State Comptroller. Robin and James quickly realized that returning to New Braunfels to live and raise a family was a shared goal.  Their prayers were answered in 1990 when they were invited to purchase Pritchett Gymnastics Center, a purchase that was finalized in June that year.
Changing the name to J&R Gymnastics the business started out in rented space with 3 employees and 275 students.  By 1992 the business had grown to a point James left his state job and came on full time.  Today, J&R Gymnastics has 3 owner occupied locations serving New Braunfels, San Marcos and Seguin. Robin is the COO overseeing 45 employee schedules and 299 active classes per week which allows them to currently serve close to 1,500 children and their families each week.
Robin is a Professional Member of USA Gymnastics, Member of the Gymnastics Association of Texas, Graduate of the New Braunfels Leadership Class 2013 and a John Maxwell Certified Teacher and Trainer.  Robin served as Chair of the board of Early Childhood Intervention-Homespun for 3 years, and mentored with Communities in school for over 15 years. In addition to her career, Robin stays busy in the community volunteering as Chair of the Greater New Braunfels Chamber of Commerce and as a committee member of Business Advisory, Business Education, Blue Coat, Small Business, Leadership Fundraising & Youth Leadership.
Robin and her husband have 2 grown sons Austin and Alex who are both married to wonderful women. Robin and James are excited to soon be welcoming their first granddaughter into the world thanks to Austin and Margaret. The reason why Robin is so passionate about volunteering and having New Braunfels and Comal County continue to be a viable place to live, work and play is to selfishly have her family close by.
Robin received the honor of being Small Business Person of the Year in New Braunfels in 2011 and the Gymnastics Association Distinguished Service Award in 2013.
In her spare time, Robin loves hosting family events at her house, reading, and spending vacation time with family members. Her favorite holiday is Christmas time where she is Christmas Crazy decorating the entire house with trees and her Santa collection.
Fun Facts: 
If you could have 1 super power, what would it be? The ability to never have to sleep and have boundless energy which would allow me to give more time to community and projects, none of them would include cleaning house.
What was your favorite toy growing up? Playing mud pies in the back yard. Not a toy just an activity.
If you could have dinner with anyone, past or present, who would it be? It would be family lunch at my Granny's house on Sunday after church. These are some of my best memories of family gathering growing up.