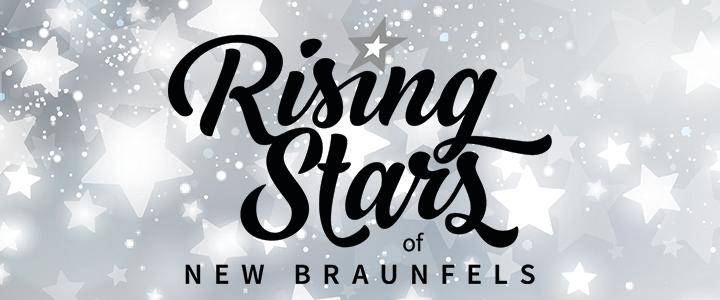 Stephanie Brockman, 36, Riverkids Pediatric Home Health
Wes Clark, 38, Rocky Hill Equipment  Rentals, Inc.
Vanessa Dean, 32, Miller & Miller Insurance
Kristen Harder, 36, Catto & Catto LLP
Meiling Hernandez, 38, RE/MAX River Cities
Mallory Hines, 32, San Antonio Stock Show & Rodeo
Shane Hines, 37, Flowco Production Solutions
Matthew Hoyt, 36, Self-Employed
Allison Humphries, 39, Rodgers Commercial Realty, LLC
Catherine Land, 27, Third Crossing Productions & Circuit of The Americas
Brandon Mund, 39, The Mund Group, LTD
Andrew Noonan, 35, Gruene Road Pharmacy
Reagan Parks, 35, NBISD Education Foundation
Evan Partee, 39, Big Brothers Big Sisters of South Texas
Jennifer Reynolds, 38, Pink Warrior Angels
Jerry Sauceda, 33, New York Life Insurance Company
Kaprice Shullanberger, 39, Believing for Bryleigh Foundation
Nick Sisoian, 39, Law Office of Nick Sisoian
Matt Smith, 36, First Commercial Bank
Jared Werner, 33, City of New Braunfels
The award honors 20 Rising Stars under the age of 40 who are excelling in their careers, bettering New Braunfels through volunteerism, and poised to be our community's next generation of great leaders. The Rising Stars will be celebrated at a formal Gala in their honor on Friday, January 11 at 6:00 p.m. at the Courtyard by Marriott River Village. The event will include a social hour, served dinner, presentation of awards to honorees and the announcement of the 2018 Distinguished Young Leader Award.
Alice Jewell, the winner of the 2017 Distinguished Young Leader Award, will provide remarks and make the announcement of this year's winner. The name of the winner is kept confidential until the announcement that night. The Distinguished Young Leader is selected from the Rising Stars Awardees as someone who really stands out from the crowd and deserves special recognition for their contributions to our community.
The winners were selected by a committee made up of New Braunfels Jaycees alumni members and Chamber of Commerce representatives who had the difficult task of thoroughly reviewing all 99 applications.
"This year we are once again overwhelmed with the quality of the selected Rising Stars," said Jaycees President Kristen Hoyt. "It's proof that our community is one of the best – with hard working selfless, and generous citizens ready to make a positive impact on our city. The Selection Committee had their hands full with the amount of submissions, but I think it proves that this program and selection process will be sustained for years to come."
The Rising Stars Award program began last year with an inaugural class of 40 winners. The program, application and selection process, and Gala are a partnership effort between the Jaycees, Chamber and Herald-Zeitung.
Tickets and sponsorships for the Gala will be available to the public beginning December 1.