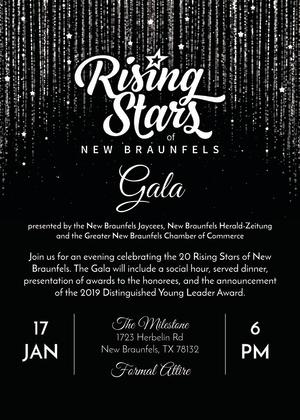 Tickets and sponsorships for the 3rd annual Rising Stars of New Braunfels Gala are now open to the public. The Gala will be held on Friday, January 17 at 6:00 p.m. at The Milestone. The Gala will celebrate the 20 outstanding young leaders who were named the 2019 class of Rising Stars.
The evening will include a social hour, served dinner, brief remarks, the presentation of a plaque commemorating this honor to each awardee, and the announcement of the winner of the 2019 Distinguished Young Leader Award.
This award recognizes our community's young leaders who are making a positive impact in their professional and civic endeavors. These Rising Stars are on a trajectory towards being New Braunfels next generation of community leaders. The program is hosted by the New Braunfels Jaycees, New Braunfels Herald-Zeitung and Greater New Braunfels Chamber of Commerce. 
To be considered, an applicant must be under the age of 40 on December 31, 2019, live or work in New Braunfels, and have made significant contributions to the community through continued success in their professional or community service activities.
For sponsorship opportunities please contact Jenna Vinson at Jenna@InNewBraunfels.com. 
2019 Rising Stars of New Braunfels:
David Brawner, 39, New Braunfels ISD
Stephen Brockman, 39, Greater New Braunfels Chamber of Commerce
Justin Castillo, 31, NB Hoop Masters
Erica Clarke, 24, Gtr. New Braunfels Chamber of Commerce
John Coker, 27, USAA
Sarah Doeppenschmidt, 37, True North Counseling
Francesca Edwards-Hays, 39, Christus Santa Rosa New Braunfels Emergency Department
Matt Gandrud, 29, State Farm Insurance
Michelle Haag, 38, Reliance Residential Realty
Lindsay Haas, 36, Hoffmann Financial Services
Heather Harrison, 39, Hope Hospice
Graham Hauptman, 39, GVEC
Ryan Kelso, 30, NBU
Emily Lane, 32, ASA Properties
Heather Orsak, 29, The Perfect Day
Tiffany Quiring, 33, River City Advocacy & Counseling Center
Alex Sieczkowski, 27, Valeo Chiropractic
Rylan (Ky) Slone, 28, GVEC
Kathryn Walters, 35, New Braunfels Presbyterian Church
Christopher Werk, 36, Faust Brewing Company
Tickets