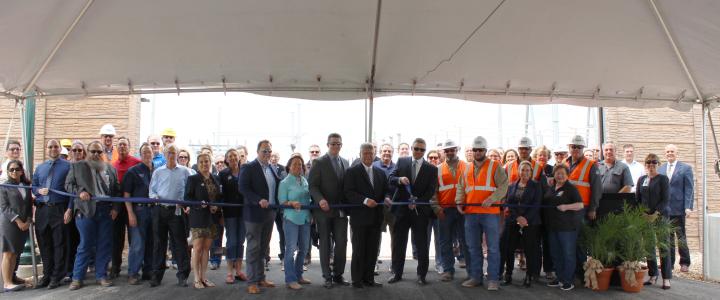 New Braunfels Utilities celebrates the opening of their newest distribution substation on the NBU system!
New Braunfels Utilities
Weltner Road Substation
1639 Weltner Rd
New Braunfels, TX 78130
(830) 629-8400

This is our ninth distribution substation on the NBU system, or 11th if you include the two dedicated industrial substations.

The new substation offers the ability to serve 3,000 residential customers and 500 commercial customers (or 6,600 residential customers if the commercial load is not taken into account).

The substation addresses significant growth along Highway 46 S corridor, including Avery Park, the Village at Clear Springs, Elley Lane Subdivision, the New Braunfels Regional Airport, and the Sam C. McKenzie Water Reclamation Facility. Several thousand acres remain eligible for development in the surrounding area. This new substation will allow NBU to maintain resiliency in the face of growth.

First time to utilize a pre-cast concrete wall. The 10-foot wall not only provides better aesthetics but also improves security and protects from wind gusts up to 115 mph.
Also, we adapted the lighting to the region. Lighting on one side of the building will only be at 30 percent power unless an intrusion is detected. Lights on the other side can be dimmed to help NBU continue to meet its commitment to the night sky initiative.