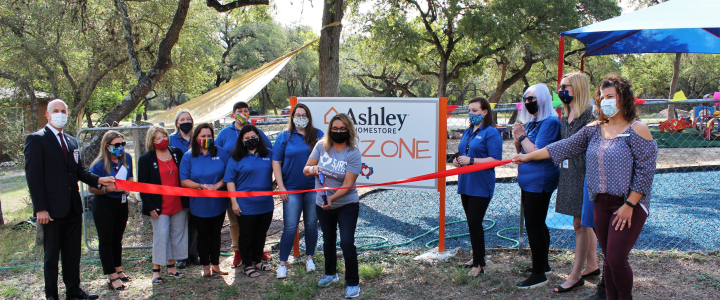 SJRC Texas celebrates its new playscape at the 652 Old Bear Creek Rd location with the New Braunfels Chamber!
SJRC TEXAS
(210) 876-6763
www.sjrctexas.org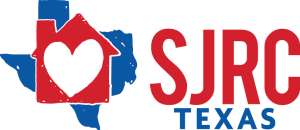 SJRC Texas was originally established in 1983 as St. Jude's Home for Children when the Hamilton Family purchased several acres in Bulverde, Texas to provide a safe haven to children in need. In 1993, St. Jude's Ranch for Children-Nevada purchased St. Jude's Home for Children, Bulverde, Texas. Today this campus still exists and provides all of our therapeutic residential treatment services for children 0 to 21 years.  In 1997, SJRC Texas added a second campus, the former Comal County Emergency Children's Shelter in New Braunfels, Texas. Today the Emergency Shelter has grown to house a Pregnant and Parenting Teen Program, meeting a great unmet need in the greater Comal and Bexar County communities, in addition to Emergency Placement services. In 2012, we expanded to operate as a Child Placing Agency, allowing us to license foster homes in the community and to complete adoptions providing forever families for our clients. In June 2016, SJRC Texas received accreditation through the Council on Accreditation (COA).  
In July 2016 we underwent transformative changes to positively impact the future sustainability of SJRC Texas to ensure that we can continue to care for hundreds of children and families every year. The national board of St. Jude's Ranch for Children decided to strategically separate operations in Nevada and Texas to allow each region to more efficiently serve foster children. The dissolution of the national board structure and business operations, effective July 1, 2016, allowed each state to continue forward separately with existing and future board members serving on localized boards designed to have a sharper focus on the specific and unique needs of the children in their corresponding communities. This has resulted in numerous efficiencies and has led to a stable financial future for SJRC.
In 2017 we saw tremendous growth as we restructured our paradigm and focused on accepted some of the highest-level need children, including those who have been victims of Child Sex Trafficking.  In 2018 we added a Charter School to our Bulverde campus, allowing our youth to go to school in a therapeutic setting designed to ensure the best possible outcomes educationally given the trauma they have suffered.
Powered by 69 FT and 2 PT employees, in 2018 we provided 24/7/365 care for close to 200 children and had them safely within our beds for 27,326 nights in care. We provided emergency services for 63 children and we provided loving and supportive services to 10 confirmed survivors of Child Sex Trafficking. Thirty-five mothers and their children were served in our Pregnant and Parenting Teen Program, with 4 babies born into the program. We licensed 31 foster homes through our Child Placing Agency, with 13 of those children being adopted by their foster parents.  Our direct care and support staff provided 213,873 counseling minutes and spent 271 minutes referring our youth to resources in the community. We also have 300 volunteers to assist in our child-care center, sort donations, help with yard and building maintenance. Our 5-year vision is to complete our capital campaign to build our new charter school and expand our ability to serve more youth.