The Chamber welcomed May Energy Solutions to the New Braunfels business community!

MAY ENERGY SOLUTIONS
119 Schumans Beach Rd
New Braunfels , TX 78130
(830) 358-7112
www.mayenergysolutions.com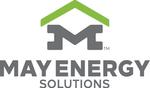 May Energy Solutions is a locally owned and operated insulation and residential energy efficiency company.  We provide home energy evaluations, air sealing, radiant barrier and all types of traditional insulation removal and installation services with spray foam insulation available in the near future.  Energy evaluations, free through the month of April, include attic inspection, thermal camera inspection and blower door test that tells you how much of your conditioned air is leaking out of your home and costing you extra on your monthly energy bills.