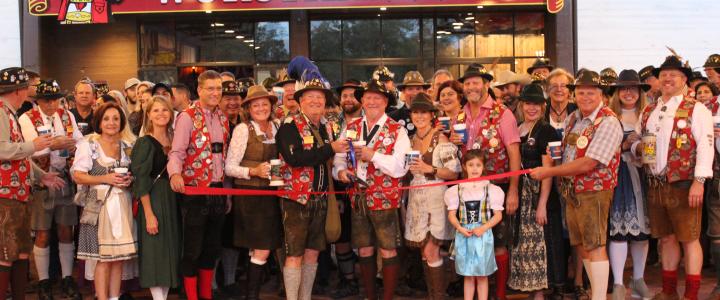 The Chamber Celebrates the Reopening of the Marketplatz at Wurstfest!
WURSTFEST ASSOCIATION OF NEW BRAUNFELS
PO Box 310309
New Braunfels, TX 78131
(830) 625-9167
www.wurstfest.com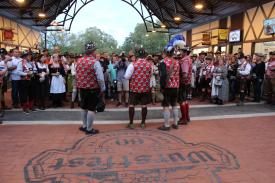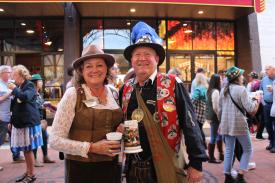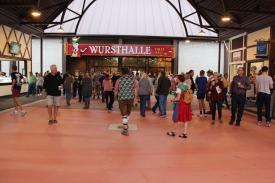 The Chamber and Wurstfest Association came together to celebrate the reopening of the Marketplatz during Wurstfest. Congratulations to the 10-day festival and the Wurstfest Association of New Braunfels on another successful year en salute of sausage (and beer). Prost!
 
The Wurstfest Association of New Braunfels is a non-profit corporation whose purpose is to promote the economy through tourism and promote and preserve the community's rich German heritage. We fulfill this purpose by hosting the annual Wurstfest, a ten-day celebration rich in German culture and full of Texas fun.
Held for the first time in 1961, the annual Wurstfest is a ten-day celebration of "Gemuetlichkeit" – fun and fellowship in the German fashion – and attracts over 200,000 festival-goers to New Braunfels to celebrate our German roots with food, music, shopping, and cold beer.
Just four days following the close of the 2019 festival, a massive fire destroyed the Marktplatz and heavily damaged the 100+-year-old Wursthalle. This City-owned property has been home to Wurstfest for over fifty years. Wurstfest has made numerous improvements and increased the size of the property by purchasing adjacent tracts of land, both preserving our history and providing additional space for our growing number of guests.
It was imperative that a massive rebuild begin immediately in order to prepare to celebrate our 60th annual event in 2020. While COVID-19 changed our plans for a 2020 celebration, it has not dampened the spirits of this German community founded by a Prince in 1845.
We invite you to become a permanent part of our fabulous festival facility by purchasing an engraved brick to pave the walkways in the reconstructed Marktplatz. The 4×8 or 8×8 brick will cement your name in stone as one of our many festival supporters.
Your participation in this fundraising effort will ensure that we are ready to celebrate in 2021 and allow more than twenty non-profit organizations to raise funds to support their various community projects.