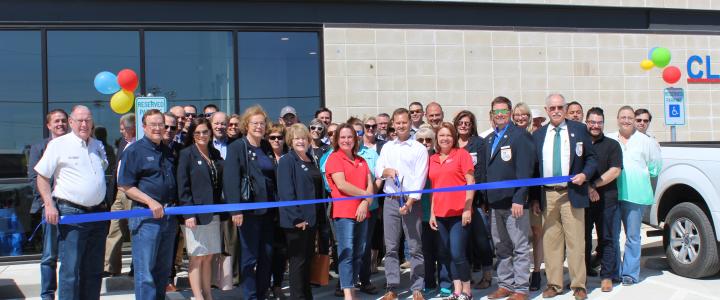 The Chamber welcomes Lone Star Storage Center - New Braunfels to the business community!

LONE STAR STORAGE CENTER - NEW BRAUNFELS
3674 Loop 337
New Braunfels, TX 78130
(830) 302-7455




Texas Lone Star Storage Centers, dba Lone Star Storage Center, began operations in 1996 with the first facility being in Bryan, Texas. We are a privately owned and operated company that now totals 6 locations across the state.  Our storage facilities are comprised of both standard and climate-controlled units, along with vehicle storage options in most locations.  All our facilities were tailored to meet the specific needs of the area they serve and come with the highest security measures in the industry. 
Our latest facility, located here in New Braunfels, features individual door alarms, video surveillance, security lighting and fencing, and onsite managers.   This location also sports our latest architectural design, with a few custom features not normally seen in our industry. In standing firm to our original model, we built this facility with the tenant's best interest in mind.  We kept our single-story drive up design, putting the customers time and ease of use front and center.  Wide 25' concrete drives make getting around the property very easy. Our covered RV/Boat Parking is surrounded by 50' driveways and includes electricity, water, and bright lights to illuminate the drives and parking areas. 
Creating a structure that blended with the environment was also very important to us. Our façade includes a steel material called Coreten. This product rusts over time, turning into a rusty brown finish. We commissioned the sculpture out front from an Artist in Sacramento, California by the name of Marc Foster. It's made from a 3' cast iron boiler pipe that was pulled out of the Crystal Ice Plant in Sacramento, CA in 1923. The office consists of decorative elements made from reclaimed walnut and red oak timbers, as well as a bar top and barn door made from reclaimed 1920's railcar deck boards. Storage facilities do not need to look like boxes with brightly colored doors. Our color scheme was carefully selected to blend with the surrounding natural colors. The beautiful colors that reflect off the windows during sunrise and sunset is a must see!