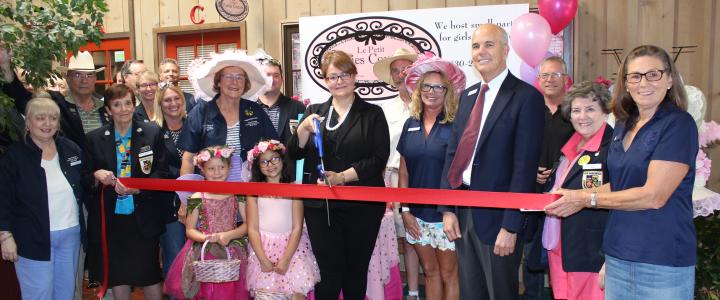 The Chamber welcomes Le Petit Parties Couture to the New Braunfels business community!
Le Petit Parties Couture
457 Landa St Ste C
New Braunfels, TX 78130
(830) 214-6139
www.partiescouture.com

About Le Petit Parties Couture:
Welcome to LPPC!
We are a charming and adorable party venue located in New Braunfels
We provide 3 specialized services:
We specialize in hosting small parties for girls of all ages ---
We provide a great venue for magical playdates ---
And we also teach etiquette lessons for boys and girls
Parties:
Sometimes you want to host a grand event and invite everyone; then again, sometimes you want an intimate soiree and invite your closest friends – we are here to help you with that!Our venue is beautifully decorated and ready to provide a charming, inviting and whimsical event.
At LPPC our goal is to give you the party you've always dreamed of –
Whether a birthday party, tea party, baby shower or just because, our main goal is to create a memorable event that you and your guests will delight in.  
We have multiple themes including Fairy parties, tea parties, spa parties, princess parties, baby showers, bridal showers and more!
We only host one party at a time; you don't have to share your space with other parties
In some party packages we can do everything for mom – from providing, addressing and sending invites, to RSVP checks, to handcrafting and preparing your goodie bags, all the way to thank you cards; all mom has to do is bring the cake and we take care of the rest.
Have your special day your way with LPPC
Playdates:
What about play dates? We have those too! Schedule a play date with us!   
You'll get to dress up, have a tea party, create your own favor and have quality time with your friends.
Come on over and bring your friends for a play date at LPPC!
Etiquette lessons:
We also provide children's etiquette lessons. Our approach is modern day manners that apply to everyday life. Our classes can be one on one or a maximum of 5 students. Our focus is to provide quality lessons your child will keep for life.
Either a party, playdate or etiquette lessons, let us host you at LPPC!
Condensed program available this summer

6 bi-weekly sessions of 1.5 hrs each

Ages 5 and up

Boys and girls

Weekday classes held Mondays and Fridays

Session I  - Mon and Fri - June 4, 8, 11, 15, 18 and 22
Session I A: 9:30 to 11:00
Session I P: 3:00 to 4:30
Session II - Mon and Fri - July 9, 13, 16, 20, 23, 27
Session II A: 9:30 to 11:00
Session II P: 3:00 to 4:30
Session III - Mon and Fri
Learn more by visiting: www.partiescouture.com
Or give us a call today!