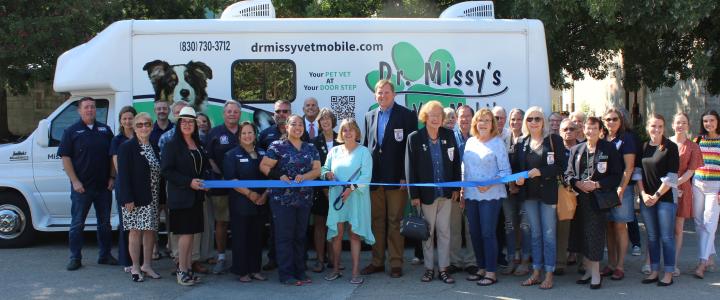 The Chamber welcomes Dr. Missy's Vet Mobile to the New Braunfels business community!
DR. MISSY'S VET MOBILE
1204 Meyer Pkwy
New Braunfels, TX 78132
(830) 730-3712
www.drmissyvetmobile.com

Welcome to Dr. Missy's Vet Mobile
Dr. Missy's Vet Mobile is proud to serve New Braunfels, Garden Ridge, Bulverde, Mission Hills Ranch, Mission Valley Road, Copper Ridge, Manor Creek, Hidden Meadow, and surrounding areas. We are dedicated to providing the highest level of veterinary medicine along with friendly, compassionate service. Please call us with any questions at (830) 730-3712.
Dr. Missy Denny Bruce has brought a new concept in veterinary care to New Braunfels, TX. Our brand new 26-foot mobile clinic is equipped with state-of-the-art blood work machines and a complete surgical suite. We will be going directly to your home where your pets are brought into our mobile clinic and examined.
Professional Veterinarian Care Has Never
Been So Convenient. Your PET VET at your DOOR STEP.