The Chamber welcomes 'Crumbl - New Braunfels' to the business community!
CRUMBL - NEW BRAUNFELS
2180 W State Hwy 46
New Braunfels, TX 78132
(210) 435-9227
crumbl.com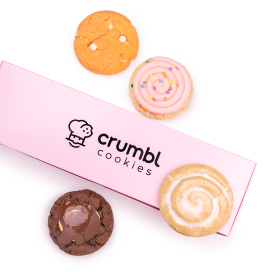 Crumbl offers a weekly rotating menu of cookies made from 200+ flavors. These cookies can be purchased in-store, locally delivered, or shipped nationwide. Crumbl features four specialty cookies weekly along with the award-winning Milk Chocolate Chip and Classic Pink Sugar cookies.
With an in-store visit, cookie lovers will see staff members mix, bake, and prepare the cookies fresh in an open kitchen for all to see. Having our customers see every cookie being made is one of the best experiences of our stores. Each ingredient is carefully chosen to provide customers with the highest quality cookies, every time.
Some Crumbl specialty cookies include Muddy Buddy, Biscoff Lava, Funfetti, Snickerdoodle, Coconut Lime, Chocolate Caramel, Hazelnut Sea Salt, Oatmeal Chocolate Chip, Rocky Road, S'Mores, Pumpkin Pie, and many more.