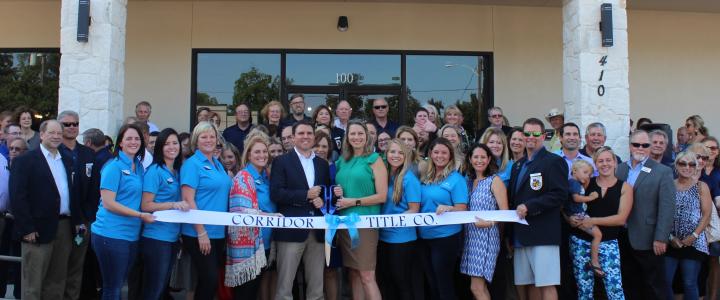 Corridor Title Company has opened their new office right off W. San Antonio St.!

Corridor Title Company
410 W San Antonio St Ste 100
New Braunfels, TX 78130
(830) 387-4739
www.corridortitleco.com

'Corridor Title delivers professionalism at the closing table and throughout the arch of our Clients' involvement in the communities we serve. In addition to professionalism, Corridor Title's single most important value proposition is the local market knowledge and relationships that we maintain, and that we bring to bear on behalf of our Clients. Locally owned and locally headquartered, we take the approach that when our Communities and Clients thrive, so does Corridor Title. And in all five of our offices, located in Dripping Springs, San Marcos, Austin and New Braunfels, we hope to earn the opportunity to work for you, and to earn your repeat business. 
Corridor Title's greatest asset and strength are our employees, and we are proud of the Team that we have assembled. Corridor Title's Escrow Departments in Drippings, San Marcos, Austin and New Braunfels, as well as our Development, Title Department, Policy and Corporate Staff, benefit from their significant title industry expertise. While a young company, we recruited our staff in a manner that well-serves our Clients - their knowledge and professionalism are defined by experience and proactive communication that ensures timely and smooth closings. And from a development standpoint, our team has charted a course that is narrow and deep - we focus on carefully choosing our clients, and committing our team to their growth and success.'