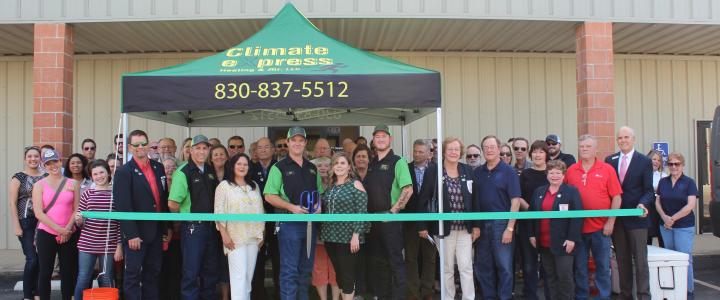 The Chamber welcomes Climate Express Heating & Air LLC to the New Braunfels business community!
CLIMATE EXPRESS HEATING & AIR LLC
1965 Post Rd Ste 309
New Braunfels, TX 78130
(830) 837-5512

William Carifee has been around the HVAC industry his whole life and brings with him 20 years of experience. We are located in New Braunfels, TX where we service here and the surrounding areas as well. Climate Express Heating & Air LLC is a trustworthy company where we are bringing back true customer service. We are a member of the New Braunfels Chamber of Commerce as well as accredited through the Better Business Bureau. Mr. Carifee strives in the best training for his HVAC technicians and is equipped to handle all make and models of air conditioning and heating systems including mini-splits and geo-thermals. Our HVAC technicians are trained to do service, repairs, maintenance, installations, and replacements of any HVAC equipment either it is in your office or home. Climate Express is a Champion Dealership and we really specialize in Air Quality Products and Services like the Micro Pure UV lighting and Honeywell High-Efficiency Filtration Systems to ensure that you have a healthy home environment for your family. We are proud to serve you with the highest integrity, honesty, and fairly priced company in the New Braunfels area.