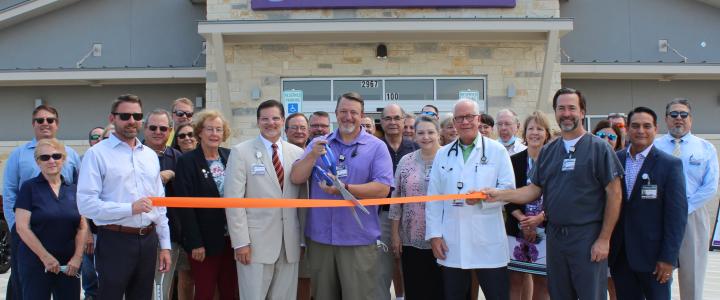 The Chamber welcomes CHRISTUS Trinity Clinic at 2967 Oak Run Pkwy to the New Braunfels business community!

CHRISTUS TRINITY CLINIC
2967 Oak Run Pkwy Bldg 1 Ste 101
New Braunfels, TX 78132
(830) 625-0305
christushealth.org/trinity/clinic/locations-directions/hill-country-mission-hill
CHRISTUS Trinity Clinic (CTC), the multi-specialty medical group part of CHRISTUS Health, has more than 1,300 clinicians in over 300 locations throughout Texas, Arkansas, and Louisiana. Founded in 1994, CTC was established in Tyler, TX, and has expanded across the CHRISTUS Health system. This expansion in South Texas includes more than 75 primary care and specialty care clinicians across 26 locations in San Antonio, New Braunfels, San Marcos, and its surrounding communities. 
Residents across New Braunfels have more CTC clinicians and locations to choose from with specialties including Family Medicine, Obstetrics, Midwifery, Sports Medicine, and General Surgery. CTC joins an already strong presence in South Texas allowing for enhanced access to care within The Children's Hospital of San Antonio and CHRISTUS Santa Rosa Health System. For more information on CHRISTUS Trinity Clinic, including details on scheduling an appointment with one of its clinicians, visit CHRISTUShealth.org.