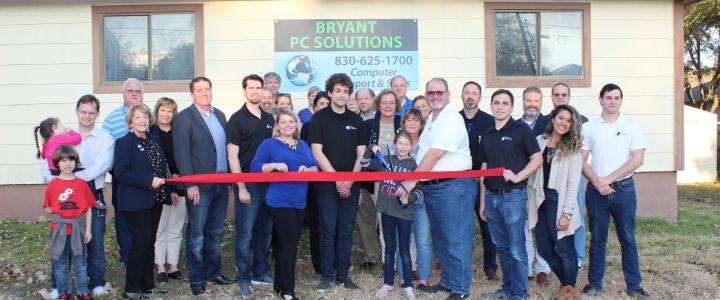 The Chamber celebrates the new location of Bryant PC Solutions! They have moved to Redbud Lane and McQueeney Road (Just a few blocks down from Granzin's Meat Market). 
BRYANT PC SOLUTIONS
231 Redbud Ln
New Braunfels, TX 78130

About Bryant PC Solutions:
Bryant PC Solutions is a fully-staffed, full-service I.T. services, consulting and equipment provider.  Services included, but not limited to: 
• I.T. Support & Solutions 
• Helpdesk Services & Network Administration 
• Preventive Maintenance & Remote Systems Monitoring 
• Infrastructure Planning & Implementation 
• Managed Services (including email hosting, offsite backups, network management & more) 
• Installation & Management of 3CX Phone Systems 
• Network Cabling
• Website Development, Design & Hosting
• Discounted Computers & Equipment for Sale 
….and many more!
Best Part – No long-term contracts. We are High Tech AND Highly Personable – Coupling tech expertise and professionalism in all we do!