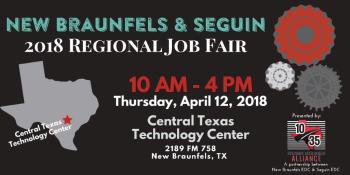 Job Seekers looking for a change are invited to attend the New Braunfels and Seguin Regional Job Fair on Thursday, April 12, 2018 at the Central Texas Technology Center (CTTC) from 10:00 a.m. to 3:00 p.m. The event is hosted by the 10/35 Economic Development Alliance – a partnership between New Braunfels EDC and Seguin EDC to help local businesses find skilled employees. Approximately 40 employers will be present and looking to hire immediate openings in a diverse range of job skills.
"Employers need exposure to talented workforce job seekers within our region. Events such as the Regional Job Fair create opportunities to find a match of employers and prospective employees," said Chester Jenke, Vice President of Economic Development for the New Braunfels Chamber of Commerce.
In addition to the job fair at the new expanded CTTC, Workforce Solutions Alamo will have their staff onsite to assist job seekers with items such as creating/editing a resume, job matching, employment counseling, etc. in the CTTC computing center.
"We hope partnering together for a job fair will help job seekers to find employment closer to home which not only supports the economy, but reduces the impact of long distance commutes," said Josh Schneuker, Director of Economic Development for the City of Seguin.
To help assist those with transportation needs, Rockin 'R' River Rides will provide buses to and from the Job Fair from selected sites in both New Braunfels and Seguin that will be announced soon. Smokestack BBQ Food Truck will be on site for concessions.
For up to date information, please visit the Facebook and Twitter feeds for New Braunfels EDC and Seguin EDC.