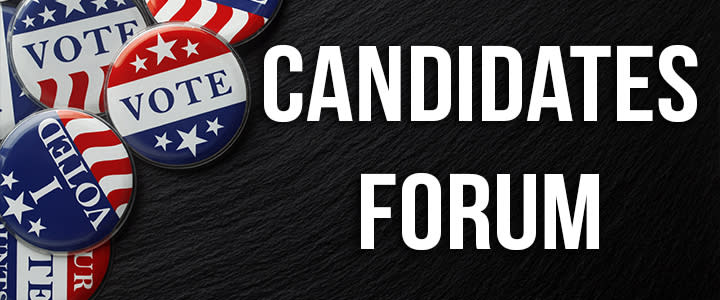 The Leadership New Braunfels Alumni Association will host a Candidates Forum at Landa Haus, on Wednesday, February 12 from 11:15 a.m. to 1:15 p.m. The forum will feature candidates who will be on the ballot for the Primary Election on March 3rd. Each candidate will be given a limited amount of time to make their case for why voters should choose them. The forum is open to all Chamber members.
Invitees:
22nd District Judge
433rd District Judge
Dib Waldrip (Incumbent)
Charlie Sullivan
Comal County Court at Law #2 Judge
Charles Stephens (Incumbent)
Comal County Court at Law #3 Judge
Deborah Linnartz Wiggington
Comal County Sheriff
Mark Reynolds (Incumbent)
County Tax Assessor/Collector
Kristen Hoyt
Patrick Aten
County Commissioner Precinct 1
Donna Eccleston (Incumbent)
Richard K. Smith
Lindsay Poisel
County Commissioner Precinct 3
Kevin Webb (Incumbent)
Colette Nies
Constable, Precinct 1
Constable, Precinct 2
Constable, Precinct 3
Craig Ackerman (incumbent)
Scott Head
Constable, Precinct 4
Shane Rapp (Incumbent)
Jerry Airola
Early voting is February 18 – 28 and Election Day is March 3rd. The Association is committed to encouraging community involvement and to providing its members with opportunities for networking, personal growth, and professional development.
This forum is sponsored by Raba Kistner Consultants. Lunch will be provided. For more information contact Stephen@InNewBraunfels.com.