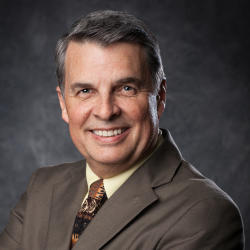 Michael Meek
Chamber President
Looking Back Can Bring You Forward
The Chamber of Commerce will be 100 years old next year. That is quite a milestone for any business, organization, or person for that matter! As you might imagine, we are proud of that and are planning to emphasize past accomplishments next year. To do that properly, Chair-Elect Shane Wolf is leading several committees this year that will chronicle our history, prepare marketing materials, and plan some great events. Stay tuned.
I have been doing a little digging myself in preparation for next year's Chamber Centennial. It isn't easy finding a lot of records from 1919. Board minutes we have don't start until the 1930's. We do know that on April 9, 1919 at a special meeting in the historic courthouse, the Chamber was formed. Their mission? Promote the commercial resources of the city and to advocate for advanced methods in municipal affairs. Not that much different from today.
The annual meeting of Jan. 21, 1929 chronicled some amazing accomplishment of this then just 10 year old entity. A Board of City Development was established, which is surprisingly similar to today's NBIDC or 4B board. That entity was coupled with the Chamber until it was dissolved in 1971. The city charter was changed in 1928 to a city manager form of government. A retail merchants association was formed as a Chamber initiative. Money was raised to build two crossings on the Guadalupe River, opening up River Road for tourism and campgrounds.
The Chamber advocated for an underpass on Seguin Ave in 1928 and again in the 1980's until it was expanded a few years ago. The Chamber advocated successfully for Highway 46 to be extended into and through downtown. Two mills were brought to town. The population was 6,500. Seventy buildings were constructed in 1928. The Chamber budget? $4,207.
The 1960's was a period of great visionary leadership in this community and several lasting initiatives were begun such as Wurstfest, the Community Fund (now United Way), Military recognition programs, the Winter Visitor Receptions, and a bond issue that included building the civic center. Thus, 1928 and the 1960's were two significant periods of time and accomplishment in our city and the Chamber was a catalyst for much of those.
Our organization has been named the New Braunfels Chamber of Commerce and/or the New Braunfels Commercial Club (1919-1928), New Braunfels Board of City Development & New Braunfels Chamber of Commerce (1929-1948), The New Braunfels Board of City Development & Comal County Chamber of Commerce (1948-1971), Greater New Braunfels Chamber of Commerce (1971-1998), and now since 1998 the Greater New Braunfels Chamber of Commerce, Inc. While the name has changed the last 99 years, the mission has not…..to promote the civic and commercial progress of the community.
We look forward to completing our research into our history. It will provide us a chronicled past but more importantly a clearer path forward to the future. I look forward to being with you on that road.