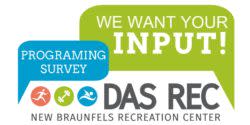 The City of New Braunfels is hosting an online survey to gather resident input for programming of Das Rec, New Braunfels Recreation Center. Residents are invited to take the short online survey and share their thoughts and ideas on programs offered to residents at the new facility. The facility is currently under construction at 345 Landa Street and is slated to open in the summer of 2018.
"The data collected from the survey will help to tell us what the community desires in terms of fitness, aquatic and recreation services," said Kelsey Heiden, Recreation Center Manager. "This feedback will guide us in developing future programs, activities and events offered at the new facility."
The online survey can be accessed between November 17th and December 1st on the Parks and Recreation homepage, www.nbtexas.org/parks or citizens can participate by accessing the survey directly at http://bit.ly/dasrecprograms.
Once completed, the center will offer a wide array of services for the entire community. The 74,000 square foot facility will offer a double gymnasium, multi-purpose classrooms, a fitness area, an elevated indoor walking track and locker/shower areas. The water recreation side will include lap lanes, a resistance/current channel, a play and spray feature and water slide. In addition, the wet side of the facility will include an eight-lane competition pool.
For further details on Das Rec, New Braunfels Recreation Center or the online survey, contact the Parks and Recreation Department at 830-221-4350.