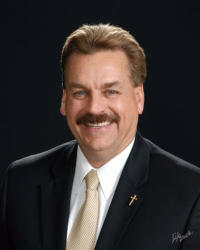 By Mark Hampton, 2014 Chair of the Board
What a difference a little rain makes in the way things look. I would even say it has a positive impact in our daily attitude. And while we are grateful for our recent rain, we are by no means out of the drought we are in.
As you are aware, Texas leads our country in driving the economy. Texas is faced with two big challenges – water and transportation. So, let's talk first about water. Water restrictions and the on-going drought have been on everyone's mind for several months. This focus and concern has garnered many opinions from area residents, and rightfully so. Last November, your Chamber of Commerce Board of Directors recommended forming a task force to study local water quantity issues. This task force was also charged with the opportunity to recommend strategies that our community could pursue. The members of the task force and the entities each represents (local and state government officials, GBRA, NBU and GNBCC) are the avenues of which these strategies would be pursued.
The Water Quantity Task Force was formed in April and met over a dozen times. The meetings consisted of education on a multitude of levels and initiatives that deal with future water quantity for our area.
The Chamber of Commerce's Water Quantity Task Force is recommending to the Chamber Board of Directors the following:
Oppose any changes in the makeup of the Edwards Aquifer Board
Support legislation that allows inflows of surface and/or groundwater into and aquifer storage reservoir (ASR) based on local water rights with no negative impacts on the receiving aquifer
Support local supply projects recommended to Region L – such as development of an ASR by NBU, water reuse projects and Trinity Well development
Oppose EPA efforts to redefine the waters of the United States
After participating in six months of meetings, I learned that water laws and rights are not simple. And, a course of action that would at first appear to benefit many of us could in fact be harmful to us in the long run. Our local and state officials and the other members of this task force are working hard to ensure our water quantity for the future.
On a related note, the Greater New Braunfels Chamber of Commerce is encouraged that the San Antonio Water System (SAWS) voted on September 29 to recommend the City of San Antonio allow SAWS to pursue the Vista Ridge project, a major new water source for their area. Hopefully this is a sign that SAWS has come to the  realization that the Edwards Aquifer has limits and other area water purveyors like GBRA and NBU are years ahead on gaining non-Edwards supplies.
Transportation is the second challenge Texas is faced with and you have the opportunity to do something about it. All you have to do is vote YES for Proposition 1 in the November 4th election. Proposition 1 gives Texans a unique opportunity to provide billions more in reliable transportation funding (an estimated $1.7 billion in the first year alone) with no new taxes, fees or debt. "The constitutional amendment providing for the use and dedication of certain money transferred to the state highway fund to assist in the completion of transportation construction, maintenance, and rehabilitation projects, not to include toll roads."
The Greater New Braunfels Chamber of Commerce is supporting Proposition 1 and encourages each of you to vote in the November 4th elections. If you are interested in Early Voting, those dates are October 20-31. Remember, TEAMWORK today determines success tomorrow.


Mark Hampton
Greater New Braunfels Chamber of Commerce
Chair of the Board