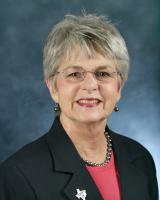 By Sandy Kibby, Chair of the Board
New Website Launched
The Greater New Braunfels Chamber of Commerce has launched its new website; so, please go to InNewBraunfels.comand experience a fresh new look at our fair city through nine subsites that can be accessed through the homepage. You will find a new calendar of events, blogs, social media feeds, itinerary builders and much more. Be checking the site over the next six months for new features; members will enjoy more business through more exposure. Congratulations to Chamber staff and to Ammo Advertising for taking us further into the next techno-age.
Military Recognized
For forty-five years the New Braunfels Chamber has had a wonderful working relationship with Randolph Air Force Base as we honor an airman every quarter. The military (Joint Base San Antonio-Randolph) chooses the honoree. We (local businesses) furnish a multitude of monetary and other gifts to the most deserving airman, and the Chamber's Military Affairs Committee, honors the airman at a reception at Honors Hall. So far this year we have recognized Airman First Class Keri E. Odum and Senior Airman Heather Snook. The Military Affairs Committee was prepared to recognize another airman, but he/she was deployed before we had the opportunity; so, this reception will come later. Honoring just one airman per quarter is a long-standing tradition that has been salvaged despite all of the military consolidation and reorganization in the San Antonio military arena. Congratulations to these outstanding young people who defend our freedoms every day. We salute you!
2014 Leadership Classes Introduced
The 13th Youth and the 22nd Adult Leadership New Braunfels classes for 2014 have been announced and introduced to the public; so, for the next nine months both classes will be learning about what makes New Braunfels tick, and working to enhance their leadership skills so that some day they will be ready and able to assume leadership roles in our community. Both class rosters can be viewed at Leadership New Braunfels. Congratulations to all who were chosen to be among these two teams. We look forward to working with you.
Business Trade Show Highlights 25 Years
On the evening of September 10th we had a nice little rain and gratefully moved the ribbon-cutting of the Chamber's 25thTrade Show into the hallway of the Civic and Convention Center. The inside of the Center had been transformed into a shiny silver and black gala in celebration of the silver anniversary trade show. It was a glorious evening with a silent auction, door prizes donated by Chamber businesses, and all 106 exhibit spaces were filled. The decorations were outstanding. Finally, the judges chose some winners, and from the large businesses the winners were: 1st – First Victoria Bank, 2nd – Hope Hospice, and 3rd – Randolph Brooks FCU; and, from small businesses the winners were: 1st – Comal County Fair, 2nd Flowers by Jeni, and 3rd – Sprint Telecommunications. Special recognition was given to businesses who have sustained their viability for twenty-five years or more. And there are a lot of them. Congratulations to all, and here's to another 25 good years! Cheers!
Hall of Honor Honorees Honored
Once a year, the Chamber hosts a Hall of Honor luncheon to recognize all of the fine people whose pictures are hanging in Honors Hall. This award was created in 1968 to honor the individuals who have participated in civic activities over many years. They must be at least 50 years of age and must be chosen by the Awards Committee, which consists of six members serving six-year terms with a new member being appointed each year by the Chairman of the Board. There cannot be more than three Honorees chosen each year. So, at the annual banquet in January this year we honored Ann Kuehler, Marty Lindley, and Kathy Meurin. All three have made significant contributions to the community and deserve to be applauded and to have their pictures on permanent display in Honors Hall. Congratulations!
City of a Prince Decree Bestowed
At our September board meeting the Chamber awarded Barnard-Donegan Insurance owner Bruce Barnard the City of a Prince Decree as an appreciation for his decade of sponsorship and support of the annual Teacher Appreciation Luncheon. Bruce most graciously accepted the award and vowed continued support of area teachers as he thanked the Business and Education Partnership Committee Chair Judge Charles Stephens. Congratulations to all of the teachers who were recognized and to Bruce for his good deeds. Cheers to you!
Ribbon-Cuttings
Our September ribbon-cuttings started with Mark Parmerlee at On the Grind, a small drive-through establishment in the parking lot of Wells Fargo Bank on Walnut. He opens at 6:00 a.m. and can provide a delicious hot caffeinated start to your day. Later, if you are having a sinking spell drive back around and try a Rhino's combo or an icy coffee concoction. You'll be glad you did. You'll love what he creates; plus, Mark's attitude is enough to brighten anyone's day. And, on Thursdays, everything is just $2.00. Yea! For Mark!
We cut a ribbon for the New Braunfels Area Community Foundation, which now has a home in the McKenna Event Center with President and CEO Brit King in charge. He has applied for the 501(c).3. nonprofit status, and as soon as that comes through, the Foundation will be ready to accept donations. This new entity offers individuals, businesses and families a professional and efficient way to match philanthropic efforts with the needs of the New Braunfels area. Chairman of the Board Cecil Eager praised his founding board and helped us to understand what the Foundation is all about. Go to www.nbacf.org to see how far the board has come with a dream that spun out of a Chamber planning retreat in 2009. Congratulations to the board for bringing this dream to fruition. May the Foundation flourish and prosper to sustain this community.
For an "away" ribbon-cutting, we traveled to San Marcos to welcome new Chamber member Corridor Caregivers, owned by Amy and Shawn Mitchell. Their caregivers service the counties of Hays, Guadalupe, Comal, Blanco, and Caldwell; thus, the name "Corridor" signifies the IH-35 area. Caregivers travel all around to provide any type of care that is needed, and it is a long list of services, believe me. Congratulations to Amy, trained as a Medical Social Worker, for following her dream of owning her own business. With the support of her husband and her mother, she was able to extend her health care profession to provide these much-needed services. We are proud to help spread the word.
We travelled again out Highway 46 to a lovely subdivision, The Preserve, to welcome new member Perry Homes. Chris Little, the Division President, was there to tell us all about the new 120-plus acre spread and the vision of Perry Homes in our area. Debbie Lopez, reared locally, is the onsite Sales Consultant and can help you locate your perfect lot and affordable floor plan. If you are looking for a new home, check out this newly developed area that already has numerous homes under construction. It's a lovely addition to our housing choices. Congratulations, Perry Homes, and welcome to the ever-expanding NBCC!
We now have yet another choice for some extra-special pizza. Just go over to Inferno's Pizza on Gruene Road in the old Stone Coffee and Juice Bar, where they are ready to serve you. Thanks for joining the Chamber and congratulations on your new business. Cheers to you! My grandchildren will love you!
We just celebrated our September networking mixer at the Comal County Fair Grounds and had a good turn-out to enjoy our sponsors: the Comal County Fair, Rudy's Barbecue, Johnny Carino's Italian Grille, Communications Source, and United Way. It was a breezy evening of fun networking with various businesses, visiting with friends, getting to know our new Chamber members, and enjoying the pleasures of the fair. Congratulations to Fair President Arlon Hansmann and the entire Comal County Fair organization for sustaining 120 years of rodeoing, riding the rides, and realizing sure-enough cowboy entertainment.
Celebrating Our Living Legends
We start October with the Living Legends event at the Civic Center (Oct. 3) where we honor Jan Kennady, Myra Lee Goff, and Gladys Bartling. Congratulations to these fine leaders and mentors. We are forever in your shadows as you have sustained this community for decades; and, you did it all with grace. We are so proud of all that you have contributed in so many ways.
Ask Yourself:
What does the Chamber do for you? Join us on Facebook or Twitter and keep up with our events on our new website at InNewBraunfels.com. Our membership has grown to over 2,200 members, and we are proud to continue striving to sustain a viable business community. Cheers to NBCC!