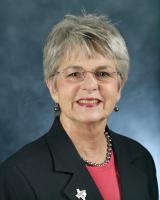 By Sandy Kibby, Chair of the NBCC Board
October in Review
All-Member Poll Gives Chamber Direction
Every year the Chamber conducts an All-Member Poll to provide the incoming chair of the board direction and focus, and this year we completed that poll in October with over 500 members responding. Hoping to drive members to the new website we asked how many had taken a look, and only 56 percent said they had checked it out. It's really a great spot to be if you want to know anything about New Braunfels and what's happening with the Chamber; so, see for yourself at innewbraunfels.com. You will be amazed at the changes we have made!
Also, in the poll, we asked, "what business challenges keep you up at night", and not too surprisingly, the response was, "sales", with "finding and keeping good employees" not too far behind.
Next, we asked members to check three services that the chamber provides that made a difference in their business; and, the number one response was, "provide networking opportunities for you with mixers, receptions, special events, and trade show". Almost tied for second were these responses: "create better connections for you with referrals, listings in directory, brochures, etc.", and "strengthen the Economy-Community with retention and expansion, recruiting, and marketing for tourism". And the third most frequent response was the following: "to make you more visible with advertising, publications, events, ribbon cuttings, and our website". So, obviously, a strong reason to join the Chamber is to heighten your business's visibility in the community, not only to tourists but to other businesses as well.
When asked what the member's staffing plans for 2014 were, 57 percent said that they would remain at the same number while 40 percent said they likely would increase their staffing number. And when asked what their budgeting plans were, 51 percent indicated that they would increase their budgets, and 47 percent said that they would keep the same budget.
Under the Economic Development questions, 89 percent said that "support existing business expansion" should be a priority of the Chamber, and 88 percent said that "support local business start-ups" should be a priority too. A new hotel for downtown ranks high for 39 percent, while 54 percent like "pursuing higher influence in state and national public policy issues".
When asked about Transportation/Infrastructure, 54 percent of our forward-thinking members ranked "promoting the benefits of alternative energy" as a priority, and 78 percent chose "educating on water quantity options" as a high priority issue. Almost 56 percent want the Chamber to "aid in public transportation amenities via communication and marketing". About 44 percent like the idea of "adopting a hike and bike trail program locally".
Under the heading of "Education and Quality of Life", we found that a whopping 86 percent want us "to promote more local higher education opportunities". And to do that, 73 percent want the Chamber "to act as the communication vehicle for post-secondary education in the community". Considering all of the special events that we have, 57 percent believe that the Chamber should "act as the coordinator for special event logistics in the community".
So, these questions and answers provide the framework for the incoming Chair of the Board Mark Hampton and his board of directors to develop goals at their annual retreat in November. From their break-out sessions and discussions throughout the day will evolve the 2014 Chamber's Plan of Action. It is very important that these priorities drive the decisions of the Board. This Chamber represents over 2,200 members and must always consider the best direction for the Chamber to take in order to continue to sustain and enhance businesses over the years.
Chamber Board Supports Issues
The Chamber Board occasionally will take a position on issues that impact the economy of the community, and this year has been no exception. Early in the year, we supported the city's bond package, which passed. In August the board voted to endorse Proposition 6 on the statewide ballot, which supports use of "rainy day funds" for the development of projects that will enhance the quantity of available water resources for Texans. We also supported the concept of applying for grant money to help with the expansion of the Central Texas Technology Center. And recently, we voted to support the Comal ISD $451 million bond package. The board felt that the citizen committee that studied the needs of the school district and concluded that it was best to ask for a large package that will sustain the student needs over a long period of time was the best route to go. The Chamber Board agreed that this is a positive direction for not only New Braunfels, but for all of Comal County. November 5th is Election Day; so, please exercise your right to freedom of choice and vote.
Corporate Challenge Golf Tournament Successful
Over 65 participants played in a three-man scramble for the inaugural Corporate Challenge Golf Tournament on October 11th at River Crossing Country Club. The event was sponsored by the Greater New Braunfels Economic Development Foundation, a nonprofit that is a partner in the private-public partnership for economic development in the community along with the city and their 4B Board, the Chamber, and the County. When the tri-city golf tournaments ended, this Challenge event was created as a fund-raiser for the 501.(c).3 foundation. With wonderful supportive sponsors, the inaugural golf challenge was a successful event.
New Braunfels Continues to Lead in Economic Development
The Chamber's own Director of Economic Development Rusty Brockman is making us all proud as he recently accepted the Chairman's gavel for the Texas Economic Development Council. The TEDC, the country's largest state organization serving economic development professionals, is under the leadership of CEO Carlton Schwab, another New Braunfelser. And Brockman follows two other New Braunfelsers who served in this capacity including Tom Purdum and Michael Meek. Congratulations, Rusty, on your new position. Rusty, who also serves on the GBRA Board, has been instrumental in bringing new businesses to our area recently. The Chamber Board also recognized Michael Meek for his 25 years of service to the Chamber, which also includes his many contributions to the economic welfare of the city, by attracting new businesses.
Ribbon Cuttings Continue
There is no slow down in new businesses starting up in New Braunfels. In October we welcomed many new ones and had ribbon-cuttings for several, including the following: the Hope Hospice Thrift Store, which has expanded; Schobel's Restaurant, which is under new management; Jimmy John's Gourmet Sandwiches, which is new to New Braunfels; Direct Auto Insurance, also new; Texas 46 Collision Center, which has greatly expanded their facilities on Highway 46; Belk Department Store, which is another major addition to Creekside Way; Texas Ski Ranch Snow Park, which is open and ready to teach you how to snowboard with melted snow; BWB Salon & Spa, which stands for "Because We Believe" (and they do, as evidenced by their caring actions); The Mund Group, an insurance agent which has contributed so much to this community by restoring fourteen historic houses that otherwise would have been destroyed; and Casa Garcia's, a new venue for Mexican food and watching sports events in the Westpointe Village. All of these ribbon cuttings soon will be on the Chamber website (innewbraunfels.com) and their pictures either have been or will be featured in the Business Journal section of the Herald-Zeitung.
Boulder Springs Hosts Mixer
Our October mixer attracted hundreds of members and guests to Boulder Springs Event venue off Highway 46, where a team of sponsors helped to make the event a success. The General Manager Anita Roehr welcomed everyone to the beautiful facility where we enjoyed wonderful food by River City Catering's Alaine Cameron, and refreshing beverages from Sabrina Houser's Dry Comal Creek Winery and from Wright Distributing Co. It was, indeed, a perfect fall evening for networking and renewing friendships with a multitude of businesses in attendance.
Our next mixer will be on Tuesday, November 5th, at Wurstfest, where we can chomp into a sausage on a stick, enjoy an adult beverage, and discuss the elections which end that day. We know that the year is winding down when it comes time to bite the sausage. Also, we are solidifying plans for the annual banquet on January 31, and the Texas Legislative Conference in March 2014. Together, we the Chamber continue to move forward and help make this city a thriving and sustainable community for many years to come. If you or your business is not already a member of the NB Chamber, hop on board and be a part of our team!