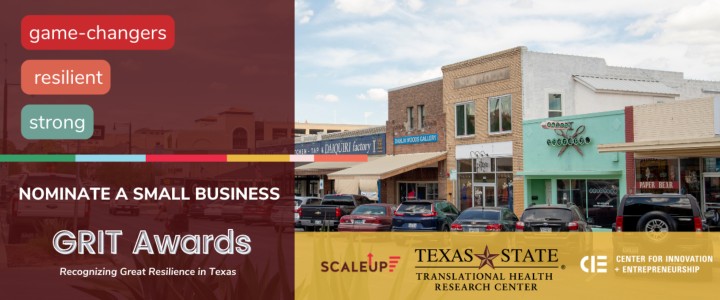 The first annual GRIT (Great Resilience In Texas) Awards are underway! Share your stories of resilience by nominating your small business or that of a fellow Chamber member.
Stories of resilience might include adaptations to business as usual or recovery efforts in response to the pandemic, the winter storm, natural disasters, or other significant events. Businesses whose stories inspire and exemplify resilience will be recognized with a GRIT Award.
Winners will receive recognition at an official showcase event, access to a network of small businesses in Texas and variety of resources to grow, and media to share your story and promote your business!
Nominations are now open and will close December 1.
Eligible applicants include for-profit, small businesses with 500 employees or less* that are owned and operated in the state of Texas.

---
The Texas State University Translational Health Research Center (THRC) developed the GRIT Awards in partnership with SCALEUP and the Center for Innovation and Entrepreneurship to recognize and celebrate small businesses demonstrating Great Resilience In Texas.