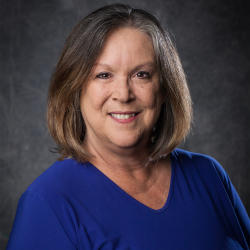 Nina Eastman is the Director of CVB Sales, and is responsible for bringing groups of all types to New Braunfels. These groups range from small reunions to large conferences, and Nina's main focus is on those groups who utilize our local hotels. Nina attends numerous tradeshows throughout the year, educating meeting planners on the value and beauty of bringing their events to New Braunfels.
Nina graduated from New Braunfels High School in 1974 and then attended Southwest Texas State University, Bee County College and New Braunfels School of Vocational Nursing. Deciding to take a "short break" from nursing, she accepted a seasonal front desk position at Holiday Inn in 1984. For the next 33 years she has remained in the hospitality industry, serving as Director of Sales and General Manager of several hotels and resort condo complexes.
Nina was born and raised in New Braunfels and is a descendent of our founders who arrived in 1845. She has two daughters, Shannon Eggers and Jacey Toney. She is the proud "Nana" of Aidan Thomas Wall, Blake Oren Toney, and Sadie Lynn Toney.
Fun Facts: 
What is one thing on your bucket list? Ride in a hot air balloon over the Loire Valley, France.
Who is your favorite super hero? She may not have worn a cape, but my great grandmother was my super hero.
If you could go on a free vacation anywhere in the world, where would you go? Ireland and/or Germany to find out more about my "roots".