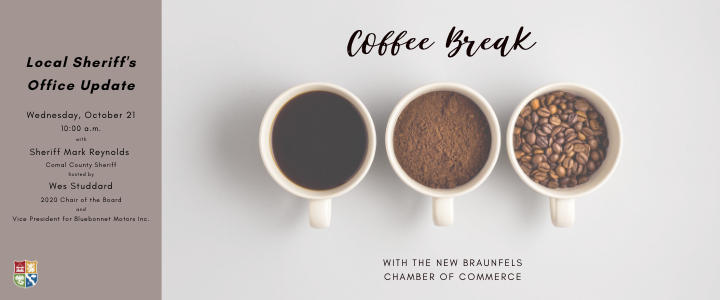 On Wednesday, October 21 at 10:00 a.m. the live streamed Coffee Break with the Chamber will feature Comal County Sheriff Mark Reynolds as the guest speaker, hosted by 2020 Chair of the Board, Wes Studdard of Bluebonnet Motors, Inc. Sheriff Mark Reynolds will brief attendees with updates on the new jail, new radio project, and the Sheriff's office remodel.
The live webinar will provide members with valuable tools and information on how leaders in the local New Braunfels community are continuously pressing through and keeping our citizens safe.
All Chamber members will be emailed meeting details for this event.
For more information contact Phyllis Foerster at Phyllis@InNewBraunfels.com.