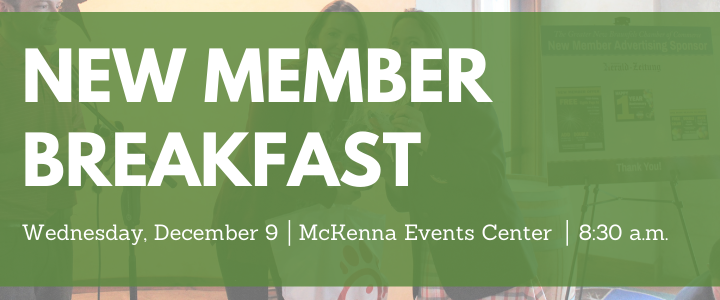 New members who have joined the Chamber in 2020 are invited to a New Member Breakfast in their honor on Wednesday, December 9 at the McKenna Events Center from 8:30 a.m. to 9:30 a.m. Attendees will get the chance to meet other new members with a brief presentation from Chamber Chair of the Board Wes Studdard. Studdard will welcome all new members and give a brief description of the programs and committees that members can be a part of, followed by the chance to introduce yourself and your place of business to fellow attendees.
This event is sponsored by Chick-fil-A Westpointe Village, Detex Corporation, Hill Country Tech Guys, Randolph Brooks Federal Credit Union, Rougeux & Associates PLLC, and the Sophienburg Archives & Museum of History.
If you are a new member to the Chamber and did not receive an invitation, please contact Phyllis Foerster at Phyllis@InNewBraunfels.com.