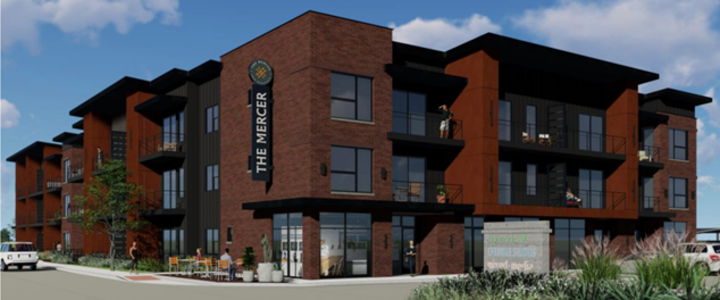 A new condominium development is set to break ground in early 2022 in the rapidly growing Creekside Freiheit Village community at the corner of Creekside Crossing and FM1101. The project features 42 condominium units with a variety of floor plans including live-work, one and two bedrooms. The Mercer follows the successful trend of upscale, new construction condos in New Braunfels: Agave Lofts and Yaupon have proven successful in Town Creek, a growing mixed used community in Downtown New Braunfels with a total 29 units. Max Caruana, Managing Partner of GBMC, a development company focused on condominium developments, explains why New Braunfels is an attractive market for condominiums: "Fast growth, the need for entry level housing and rapidly changing demographics are a perfect environment for condos. More and more people are looking for maintenance-free and lock-&- leave living arrangements. The Mercer is designed to perfectly fit the mixed-use Freiheit Village community which already features variety of business, retail, and entertainment venues. It is the perfect environment for young professionals to own their residence in a centralized location allowing them to Live-Work-Play without the need of commuting. That is what has been missing in New Braunfels until now".
Caruana continues to explain the choice of Freiheit Village for GBMC's newest and largest project to date. "The presence of thousands of apartment units in a 2-mile radius confirms a strong demand for dense multifamily in the area; the presence of Resolute Hospital across Creekside Crossing brings additional professional demand. Doctors and nurses working stretches of several weeks at the Hospital currently struggle to find adequate living arrangements; apartments promote long term leases, imposing steep increases for shorter term leases. Affordable, yet upscale condominiums allow for traveling professionals to own their place at a fraction of the cost of a single-family home and with monthly costs comparable to rental rates. "It's a win-win for everyone.", continues Caruana "We are very excited about what The Mercer has to offer to the whole area. Freiheit Village has done an incredible job at bringing an authentic mixed-use lifestyle to New Braunfels. We could not ask for a better location for The Mercer."
The Mercer features two buildings on 3 floors. The live-work units will be on the ground floor facing Creekside Crossing; 1- and 2-bedroom units are available on all floors. Owners will enjoy exclusive use of upscale amenities, including elevator, resort-style pool with summer kitchen, game area, Amazon lockers, dog park and valet trash service. Pre-sales are schedule to begin in early January 2022 with pricing starting in the low $200s.