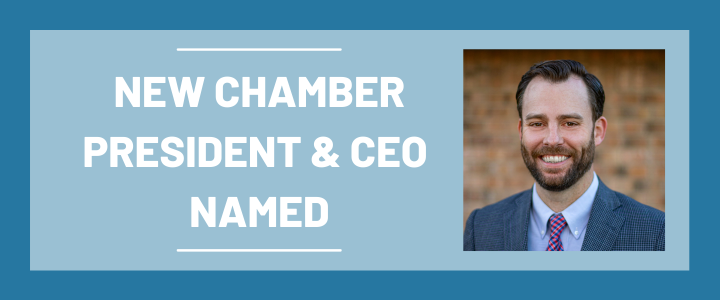 Jonathan Packer, Senior Vice President of Customer Experience with the Greater Austin Chamber of Commerce, has been named the next President and CEO of the Greater New Braunfels Chamber of Commerce, Inc. The Presidential Search Committee started with 179 applications and presented the final three candidates to the Chamber's Executive Committee on May 11. After another round of interviews, public presentations and reference checks, the best candidate was recommended for approval to the full Board. The Chamber's Board of Directors unanimously accepted the recommendation of the Chamber's Executive Committee at a special-called meeting on June 3. 
Packer will replace long-time Chamber employee and CEO Michael Meek. 2021 Chamber Chair of the Board Nathan Manlove stated, "We couldn't be more excited to have Jonathan lead our amazing staff. His experience, skills and dedication are a perfect match for our needs now and into the future." Packer adds, "I am honored to have been selected to lead such an outstanding organization of volunteers and staff. My family and I can't wait to experience all that makes New Braunfels such a unique and special place."
Packer graduated from Georgia Tech and is certified by the U.S. Chamber of Commerce's Institute of Organizational Management. He worked as Director of the Upshur County EDC in 2006-2008, the Killeen Chamber from 2008-2015, and with the Austin Chamber since October 2015. At the Austin Chamber he was their Director and then Interim Senior VP of their Global Technology & Innovation Division, then as Senior VP of Digital, and since October 2018 as Senior VP of Customer Experience. In this role, he is responsible for leading the marketing and sales teams to optimize messaging, revenue and customer experience. 
Packer will begin work in New Braunfels on July 15. Manlove ends, "I want to thank our Presidential Search Committee made up of 12 selfless volunteers led by Lilia Marek of Rougeux & Associates. I know they each spent dozens, if not hundreds, of hours on the search. I also thank Michael Meek for staying on after his January retirement. The pandemic forced a pause in our process, and he continued to lead the organization and community through the challenges of recovery."