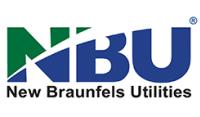 FOR IMMEDIATE RELEASE
Contact: Pamela Quidley
Manager, Communications and External Affairs
830.312.7940 | pquidley@nbutexas.com

New Braunfels Utilities Receives National Award for Community Service

(New Braunfels, TX – June 19, 2018) - New Braunfels Utilities (NBU) received an American Public Power Association Community Service Award at the American Public Power Association's national conference in New Orleans, Louisiana. This award recognizes "good neighbor" activities that demonstrate the commitment of the utility and its employees to the community. Andrew Cummings, Environmental Affairs Supervisor was on hand to accept the award.
"Our community is important to all of us at New Braunfels Utilities. This is where we raise our families, help our neighbors, and volunteer in causes that enhance our way of life," said Ian Taylor, CEO, New Braunfels Utilities. The McKenna Children's Museum exhibit is an example of NBU's commitment to help educate future generations so their quality of life remains as vibrant tomorrow, as ours is today," Taylor added.
New Braunfels Utilities is charged by its mission to enhance the quality of life in the community through innovative services. In 2014, NBU launched an exhibit at the local McKenna Children's Museum. The goal was to engage children in water and energy conservation, encouraging good habits at an early age. "It was Andrew's vision, knowledge, and passion, that brought an idea to life so that children visiting the exhibit would learn the importance of conservation through play," said Suzanne Williams, New Braunfels Utilities' Environmental Affairs Manager.
Andrew, working with the McKenna Children's Museum staff, was able to study what children like and how they learn through hands-on, interactive methods. He then incorporated that knowledge and added technology to create and enhance the "interactive home" exhibit. New Braunfels Utilities' popular mascot, "Bucky the Bucket Truck," guides visitors through a model home with interactive displays to help them think about consumption and conservation. The exhibit also features an interactive touchscreen video game. By tapping in to the museum's 85,000 annual visitors, NBU has been able to reach adults and children alike with critical conservation messages.