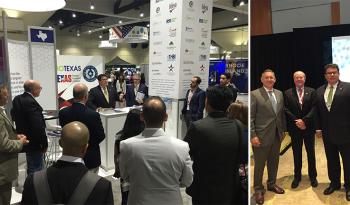 The New Braunfels Economic Development Council was part of a Texas delegation organized by the Office of the Governor, the Texas Healthcare and Bioscience Institute, and the Texas Economic Development Council, who took part in the 2017 BIO International Convention in San Diego, California June 19-22, 2017. The BIO International Convention is the largest global event for the biotechnology industry, with over 16,000 biotechnology and pharma leaders in attendance.
Rusty Brockman, Vice President of Economic Development at the Greater New Braunfels Chamber of Commerce, worked the Texas Pavilion as a representative of the 10/35 Economic Development Alliance. The Alliance is a partnership between New Braunfels and Seguin with the primary goal to recruit new companies and expand local businesses. Seguin and New Braunfels are entering their ninth year as partners where they share funds and resources to market the region. The Alliance has attended the Bio Conference for the past six years as part of their plans to recruit this industry sector to the region.
Vendors were there promoting the bio/life sciences, medical device development and manufacturing, and pharmaceutical industries. There were more than 1,800 booths representing companies, states, and countries from around the United States and the world. The Alliance joined more than 20 companies and cities from around Texas. As a major sponsor, Brockman was able to host the French delegation and a group of business leaders at a breakfast, dinner and tour of the San Diego Zoo. Also attending with the Texas delegation was Secretary of State Rolando Pablos and Brian Daniel, head of Governor Greg Abbott's economic development office in Austin.