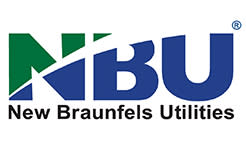 FOR IMMEDIATE RELEASE
Contact: Pamela Quidley
Manager, Communications and External Affairs
830.312.7940 | pquidley@nbutexas.com
High Temperatures and Dry Weather Prompt New Braunfels to Enter Stage 2 Water Restrictions
(New Braunfels, TX – June 6, 2018) - High temperatures and dry weather are quickly taking a toll on the Edwards Aquifer. The level has been dropping at a rate of nearly a foot each day since Stage I watering restrictions was enacted by New Braunfels Utilities (NBU) on May 18, 2018. The J-17 well had dropped to 648.7 feet on June 6, 2018, which is one half foot below the trigger level of 650 ft. for Stage 2 in New Braunfels. Without rain, it is possible to reach Stage 3 within a few weeks. The Edwards Aquifer trigger for Stage 3 is 640 feet.

"Our area has had very little rainfall this year. Since January, New Braunfels has received just over 9.5 inches, compared to 12.51 inches of rain this same time last year. This, coupled with very high temperatures lately, creates an increased demand on water consumption," stated Ian Taylor, New Braunfels Utilities' CEO. "Even though NBU has a resilient and diverse water supply, conservation is essential." By adhering to water stage restrictions, together, we can work to delay further restrictions.

New Braunfels Utilities will enter Stage 2 watering restrictions at 12:00 a.m., Thursday, June 7, 2018, which limits the use of a sprinkler or irrigation system to one day a week based on the ending number of the home address. Watering must take place before 10:00 a.m. and after 8:00 p.m. What changes from Stage 1, is that the use of a hand held hose, bucket, drip irrigation system, or soaker hose that does not spray water in the air will also be limited to use before 10:00 a.m. and after 8:00 p.m. Use of a sprinkler or irrigation system is not allowed on the weekends during Stage 1, 2, or 3.

These restrictions apply to both residential and commercial customers alike. The schedule requirements for landscape water and other outdoor water use are as follows:

Addresses ending 0 or 1: Monday
Addresses ending 2 or 3: Tuesday
Addresses ending 4 or 5: Wednesday
Addresses ending 6 or 7: Thursday
Addresses ending 8 or 9: Friday

The ordinance also prohibits outdoor fountains and waterfalls, requires a variance confirmation from the NBU Environmental Affairs for watering new landscaping, and limits vehicle washing at home to watering days and times, over a pervious surface.

The latest watering information can be accessed 24-hours a day by visiting www.nbutexas.com or calling the NBU Water Hotline at 830.608.8925. New Braunfels water usage guides are available at the NBU Main Office as well as the NBU website under the Conservation tab. In addition, New Braunfels Utilities provides free energy, irrigation, and water assessments to both residential and commercial customers. Customers may select a day and time they would like to request to have an assessment done. To take advantage of this complimentary service, customers can call 830.608.8925 or schedule an assessment online at nbutexas.com/Conservation/scheduleanassessment.